Band vying for success at 2022 UIL Class 6A Marching Contest
Amidst an amalgamation of instruments, synchronized performers and rhythmic blues during the third movement of the Coppell Band's 2022-23 marching show "Archetype," a familiar tune floods the stadium. It is just another game day for band as the audience cheers along to Elton John's "Your Song."
Just like the song, the band is light on its feet and effortless, constantly moving to tell the story of four archetypes (explorer, artist, lover and hero). It is this same routine the band hopes to execute on Saturday at the 2022 UIL Class 6A Area Marching Band Contest at Pennington Field in Bedford, with preliminary competition beginning at 1:15 p.m. 
"Area is a big competition in our journey to state,"  junior drum major Lindsey Won said. "Now that we've gotten the show onto the field, we have all four parts, we're coming down to honing in on the final details. For Area, we've been working on making sure everything is clean during rehearsals to ensure everything is as close to perfect as possible, especially before [state in] San Antonio."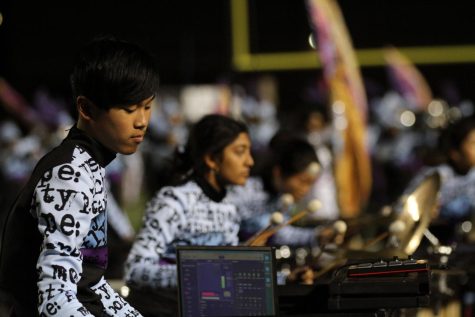 Last year, Coppell was named UIL Class 6A Area Marching Champions and went on to place fifth at state, an achievement unseen for the band since 2013. According to Won, while the band is aiming towards equally high placements, there is something more important at hand.
"The goal is performing a show that the audience will truly connect with and being proud of our run," Won said.
Even with the added pressure of living up to expectations set by a year of new records, nerves are not an issue thanks to a steady flow of rehearsals and performances since July. 
"We're ready and excited to see all of our hard work pay off for the third-to-last competition," Won said. "While we aren't necessarily stressed—we're dialed in—it's always good to be a little bit nervous because it's a tough journey to state."
Follow Shrayes (@shrayesgunna) and @CHSCampusNews on Twitter