Inside scoop of "Eurydice"
New leadership debuts on stage with fall musical
Within the curves and turns of Coppell High School's hallways hides the Black Box Theatre and theater workshop, which are filled with students dedicated to work on the upcoming fall show: "Eurydice."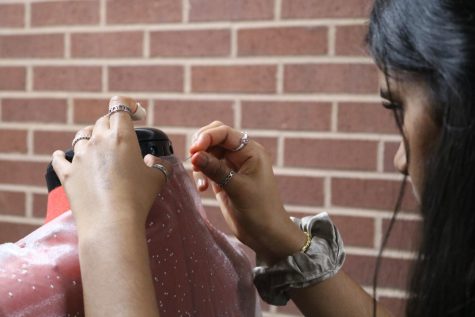 Preparation for "Eurydice" began early, with auditions beginning the week of Aug. 22, and rehearsals beginning soon thereafter. The cast of "Eurydice" did not initially rehearse on stage. At first, the cast and crew analyzed the script and actors worked on personalizing their characters, to provide more depth to the show. 
"Eurydice" show dates are this Friday and Saturday, October 28th and 29th at 7 p.m. and this Sunday October 30th at 2:30 p.m.. The tickets are five dollars for CHS students and staff and ten dollars for general admission.
"Analyzing the script is really about taking your time and figuring out what works for you and your company," junior Anish Kalra said.
"Eurydice" is different from past shows with the additions of head director Lisa Stucker and technical director Grace Hellyer to the department. 
"From a community aspect, the whole atmosphere of rehearsal has changed," Kalra said. "The entire company, the actors, technicians and directors, have such a close bond. We look forward to being at rehearsals." 
The new directors want the theater to be a place where students can build friendships and learn more about what they love to do.
"Every rehearsal feels so information packed, yet at the same time so enjoyable and fun. I don't think I have ever been bored there," Kalra said. 
Hellyer confirms the productivity of recent rehearsals. 
"All of the kids are great at what they do. I am able to give them tasks and they are able to self regulate themselves," Hellyer said. "The amount of creativity they [students] bring to this is really impressive. I am excited and proud of them for the work they have done so far."
Students in leadership positions are able to help lead rehearsal time and input creative ideas.
"The directorial and design concepts that we have been creating are abstract and out of the box," senior set design assistant Grace Hennessy said. "The spiral staircase is what I am most proud of. I thought it would go well with the themes of the overworld and the underworld." 
All in all, it takes a village. Actors, technicians and directors all work together to create the show. 
"I look forward to seeing our work all put together, the stage performance will make me so proud," Hennessy said. 
The company has gone through many stages of rehearsals, and soon their preparation will be revealed.
"There is so much fun we have, as a company, and it is all about promoting that fun at the end of the day," Kalra said.
Follow @CHSCampusNews on Twitter.