Sometimes all you need is a bit of confidence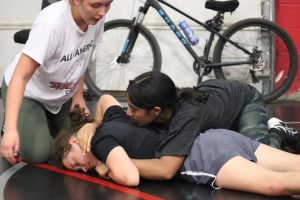 Pin her! Pin her! 
That's what CHS9 varsity wrestler Ishitha Mallidi hears day in and day out. 
Mallidi started her wrestling career two years ago at Coppell Middle School West under coach Rebekkah Grissom. Mallidi also won the Coppell All-City tournament and went undefeated in eighth grade under coach Jamika Jones.
While Mallidi's original reason for joining the sport was to get more exercise in, she had no idea she would be taking the first steps toward her future passion. Mallidi's personal journey has shown that even in the face of adversity, sometimes all you need is a little confidence.
Follow Nyah Rama (@nyah_rama) on Instagram and @CHSCampusNews on Twitter.