Lazos creating a tight knit family in E106
Following in his mother's footsteps, AP Environmental Science teacher Maxx Lazos has been in Coppell ISD for four and a half years, coming from Dallas ISD after his first semester teaching. Lazos was born in Sarasota, Fla. and moved to Marble Falls, Texas at age 8. Graduating from substitute teaching, Lazos taught Forensic Science as well as Anatomy and Physiology before teaching AP Environmental Science.
Who has influenced your teaching career?
My mom [Rebecca Ann Lazos] was a very present figure in my life and was also my sixth grade language arts teacher. We've always been very close and she's just taught me a lot. We don't actually talk about teaching that much, but when we do, it turns out we have the same demeanor and approach to the classroom. We do things the same way even though we've never planned or talked about it.
What made you start teaching?
To some degree, it is in my DNA. I wanted to be a teacher from a very young age; it was the first thing I ever wanted to do. I have an ability to explain complex topics very simply. I really love learning everything I can about everything. Those are the main ingredients for a teacher, so it's something I'm really passionate about.
How did you pursue a career in teaching?
I went to Angelo State University, a small west Texas university. It was the path of least resistance, [because] I knew what I wanted out of life. My degree is in exercise science. I went to chiropractic college at Parker University for a couple of years, but it was not what I wanted to do with my life. Eventually I quit and pursued my teaching certification while subbing here at Coppell.
What have you learned by being a teacher?
A lot of teaching is not necessarily learning what to do, but it's learning all the millions of ways to not do things. I've learned that a teacher that is good at their job requires many more hours outside when the bells ring. Once you live it, you see that this is a limitless job. My biggest takeaway is to be comfortable with never completing my to-do list , because the second you finish two or three things on your to-do list, you [have] to add four or five more.
What is your style of teaching?
I find that the more I try to be organized. The less organized I feel, and the less satisfied or happy I am with the job. I'm a very improvisational person. I go on a lot of tangents, my mind is always just kind of wandering, thinking of different ideas. I've tried to keep a to-do list, to have organization. But I personally enjoy not stressing that much about that. It's this push and pull with never running out of tasks to do, it's a balance you have to find to be comfortable with.
What is your favorite thing about teaching?
If I did not love my students, I don't see how one can really do this job and be happy. Especially in my specific classroom, I'm tucked away in the corner of the school. I jokingly tell the students all the time [they] are my best friends. I try to create a safe space for everybody to feel comfortable. Seeing kids get passionate about science and feeling like it's cool to care about learning is something I always craved as a high school student. It's hard to express how meaningful it is to know that I can provide that to some degree for my students.
"
We've all had these wonders: why are we here? How did we get here? Science is how we answer those questions."
— AP Environmental Science teacher, Maxx Lazos
Why did you gravitate towards science?
We've agreed upon as a society what is true and what is not. We've all had these wonders: why are we here? How did we get here? Science is how we answer those questions. By understanding the process of figuring out how something works, unlocks this potential in your brain. Once you unlock that, you can't put it back in the box. It is mentally freeing once you embrace science as a tool for understanding everything around us. I try to share that with the people around me.
What are you like outside of school?
I believe in working hard and playing harder. I'm a normal, fun loving type of person. I'm a big gamer, [and I am] very passionate about video games as an art form as well as a medium for education. I listen to a lot of podcasts. You have to be able to have fun and let loose and disconnect when you can from whatever it is you're doing.
What are your favorite video games or podcasts?
I listen to "The Herd with Colin Cowherd" every day, [which] is a sports podcast. I listen to a podcast called "Philosophize This," which is a bite-sized philosophy type of podcast giving you perspective on different historical figures. My favorite podcast that I listen to every single week is called "Sacred Symbols;" it is just a weekly four hour video game podcast. My favorite video game of all time is Bloodborne. I truly believe Bloodborne, [with] the way it builds a world, should be taught by literary courses [because it has] been that impactful in how I view life.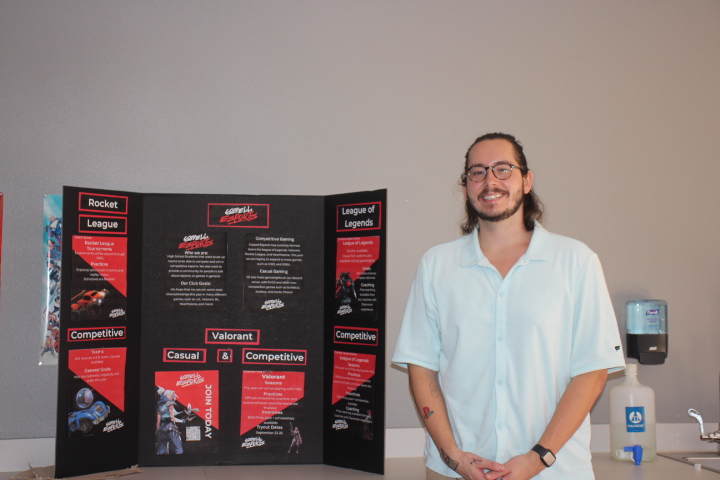 What is your family like?
I currently live with my partner of nearly five years, Megan. She's a travel nurse so she's currently in Colorado, but she's coming back this weekend. It's me and my cat, Allo, chilling at the apartment right now. I live in downtown Carrollton, a nice walkable neighborhood where I can walk to any entertainment I want. My mom and dad live in Marble Falls, Texas. I'm glad I have them in my life.
What do you see yourself doing in the future?
I'm not looking for a career change. I could be a teacher until the day I die and be very satisfied. I do have many other passions, many other things I've learned about. I'm currently taking computer programming classes because I'm fascinated with computers.I ever did do a career change of some sort, I would love to be a video game developer.
Follow Maya Palavali (@mvpalovalley) and @CHSCampusNews on Twitter.