Gazillion Bubble Show blows audience away
Children and families pack the seats in the Main Hall of the Coppell Arts Center on Sunday, awaiting a magical performance immersed in the world of bubbles.
Bubble artist Deni Yang opened the show with a myriad of bubbles blown towards the audience.
Yang is the recipient of two Guinness World Records: the most number of people inside of a soap bubble and one of the longest bubbles ever blown, with a length of 170 feet. 
Yang continues the legacy of his father, Fan Yang, creator of the Gazillion Bubble Show who also holds multiple Guinness World Records.
Deni Yang started performing at shows with his family when he was 4 and continues the tradition, holding shows all over the globe.
Yang created a variety of shapes with bubbles, such as planets orbiting each other inside of a bubble, a cube inside of a sphere and mini bubbles within one large bubble.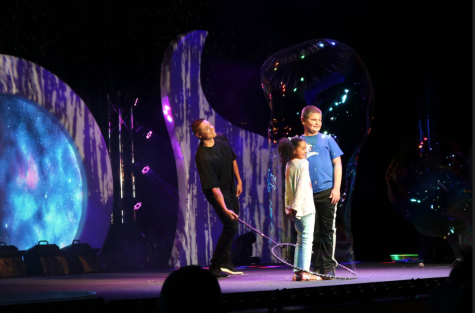 To the surprise of the audience, Yang performs a trick where he eats "smoke" bubbles. 
"In case you're wondering what the white smoke was, that is actually a water-based oil and it is non-toxic, which is why I can eat it," Yang said.
Coppell resident Doug Verkuil discovered the Gazillion Bubble Show through a mailer from the Coppell Arts Center several months leading up to the event.
"When I looked at the program, I wanted to see the bubble show. I looked on YouTube and there were previews, so it seemed like an exciting show," Verkuil said.
Recreating a smaller scale version of his world record, Yang enclosed four children inside of one life-size bubble for a few seconds.
Pepe Gammarra, the parent of a young participant for the bubble trick, was amazed to see his son inside of a bubble.
"The bubbles, laser show and the atmosphere were just really cool," Gammarra said.
Towards the end of the show, bubbles flew in all directions throughout the hall, representing the bubbles and pockets of air under the ocean, a key theme of the Gazillion Bubble Show.
The show finale featured a man in the center stage manipulating red, green and blue lasers in coordination with the release of bubbles from bubble-making machines on the left and right sides of the stage.
Follow @CHSCampusNews and @sruthi_lingam on Twitter.