Marching band playing to a new tune
Pregame show and 'Power of Ten' fundraiser separating fall marching season from the rest
Friday night lights at Buddy Echols Field won't look the same during the 2022 football season. It is not only in spite of new faces on the team, but also because the Coppell High School Band has made fundamental changes this marching season.
In past years, the varsity band has played a significant role on game day by playing tunes from the stands, providing music for the  Lariettes' halftime show and performing its own marching show at the end of the fourth quarter. That role is only expanding. 
Announced Aug. 16 at the band's community preview night, it will now be performing a new pregame show at home games. The show intertwines both the varsity and junior varsity bands, a concept unfamiliar to the program. Historically, both bands have operated independently, whether it be in separate marching shows or rehearsals.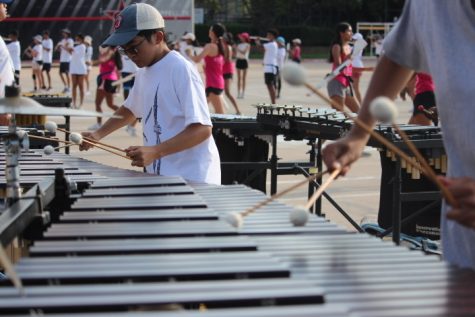 "After summer band camp, JV has morning rehearsals while varsity has after school rehearsals," senior band president Esther Han said. "Through the pregame show,  JV can learn a lot from varsity such as step-sizes and marching technique, and  the upperclassmen can build relationships with the underclassmen."
However, the pregame performance is not  just an advantageous opportunity for the performers themselves; it also offers friends, family members and the students that cheer the Cowboys on a chance to get involved. They can sing along to "Deep in the Heart of Texas" and the fight song, or watch history unravel right in front of them through military-style marching.
Military-style marching is a block-style march, in which performers maintain "cover downs"—lines—and diagonals to maintain a cohesive and clean form. It is reminiscent of what students may have seen at college football games, made famous in part by Texas A&M's Aggie Band. 
In fact, Coppell Band Director Kim Shuttlesworth, despite her University of Texas  history, reached out to the Texas A&M Director of Bands and Music Activities Dr. Tim Rhea to write the drill now being brought to life at Coppell's very own home games 
"We've sat around as a community, just talking about how we can enhance Friday night football," Shuttlesworth said. "Having come from a military background, it has been a while [since I've marched military style], so I called a dear friend and mentor, Tim Rhea, and asked him to remind me how to do this. He took 10 minutes and sent a scan of the drill. It really is just a great way to teach a new fundamental skill, include everyone, and enhance the game day experience."
Rehearsing the show, however, has come with challenges: the wave of rain and thunder, unfamiliar marching style and less time to rehearse.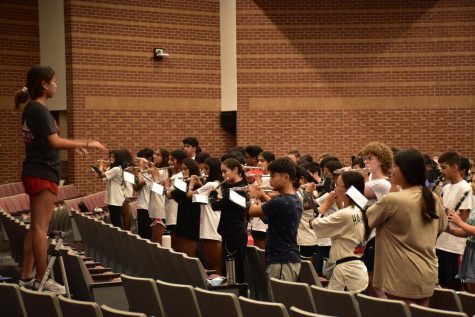 "Rehearsing the show has definitely been different," senior drum major Trey Bass said. "The usual marching show has what we call an '8 to 5' (eight steps in five yards) while the pregame has a '6 to 5,' which almost feels like a walk."
By introducing history and culture to its performances, the Coppell Band disseminates knowledge and magnifies its reach in the community. As the largest student organization on campus, it serves as the soundtrack to essential pieces—parades, pep rallies, games—of every Coppellians' life. The pregame is just another step towards creating a culture of unity. 
"When I walk in the band hall every day, I know it as a family," Bass said. "What keeps us coming back is really the community and the relationships we build. Through our performance, marching, production, it gives everyone an opportunity to show who they are, while being a collective whole."
In order to keep the band playing every Friday night, massive amounts of funding are necessary to supply meals, bus rides and competition fees. The ramifications of the pandemic have only made costs surge. In fact, the fundraising goal for the upcoming year is $25,000 more than what was made last year in order to cope with supply chain issues and inflation.
To reach said goal, the band has created a new fundraiser that rests on the power of individuals, entitled  "Power of Ten." The philosophy is that if each member can get 10 donations of $10 from peers or parents, the band can reach the goal by empowering smaller actors to give a little.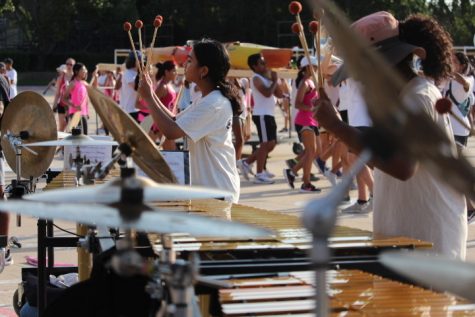 "The $100,000 goal can be met," Bass said. "It's not just to allocate funds for transportation and food, but  also for building a show that is going to change people's lives. It allows the marchers to channel who they are and put everything into the show, and the money is aimed at creating a program that can do that consistently."
This year's marching show, entitled "Archetype," consists of four movements, each representing a separate trope: artist, explorer, lover and hero. The uniforms, props, instruments and equipment are requisites to cultivating a production that will make audiences feel—laugh, cry and smile—beyond winning awards. 
Follow Shrayes (@ShrayesGunna) and @CHSCampusNews on Twitter.