High school sweetheart edition: Pawfect friend brightens schooldays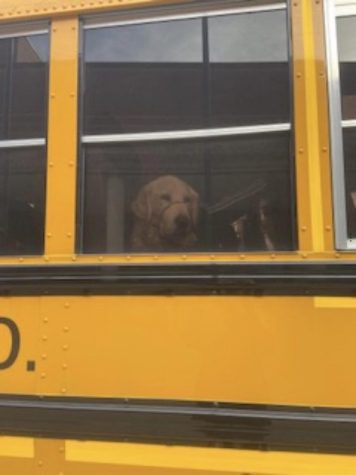 Being side by side, a silent assistant carefully observes the students without leaving eyes for a second, keeping the professionalism in the job. A small movement would immediately be caught in his attentive eyes.
When hearing the word "release," the well-trained assistant does not hesitate to stand up, ready to follow more commands. That is a day in the life of Presley, one of the service dogs who serves at Coppell High School. The service dog is not only an important part of their daily lives, but also to the high school experience.
Presley is a labrador retriever service dog who was well trained in another state before working at CHS. He has been working on campus for the past three years.
"The funniest thing he does is when I bring him back into the building, he'll look at me and I can tell he wants to run," CHS special education teacher Shannon Samberson said. "One day, I just started running down the hallway with him. So every time we come into the building, he'll look at me and start running. And that's just a fun little game we do, I hope it brightens his day."
Besides some fun moments, Presley maintains professionalism during his time working on campus.
"Presley has this special ability to provide calmness," Samberson said. "He's so well behaved and brings a sense of calm to the student, but also other kids in the classroom, too. They really enjoy having him in the classroom and it brightens everyone's day to see him every morning."
A day for him starts with coming to school on the school bus. He then stays in the special education class, goes to P.E. or art class with the student that he assists.
"His main responsibility throughout his life is to keep the student where the student is supposed to be, like in class or walking in the hallways," Samberson said. "It's his responsibility to provide emotional support and this keeps the student on task, doing what he's supposed to do and making sure he stays within the classroom."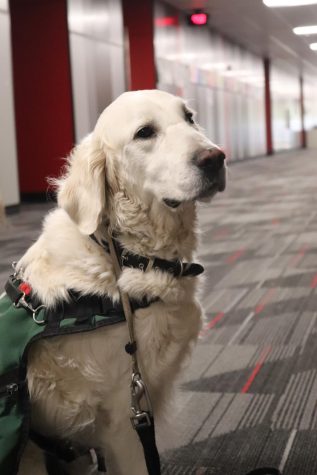 Being trained in another state before working at CHS, Presley understands and reacts immediately to his command words: "leave it,", "down," "release" and "easy."
"Presley is very obedient," Samberson said. "He's very well trained. He likes attention and always looks for treats, although he can't have any but if we have snacks, he's certainly ready to look up the crumbs off of the floor, just like any normal dog that you would expect. He is very, very well behaved, disciplined and just very calm, very sweet and friendly."
London is also a service dog on campus who has been working at CHS for roughly three years. 
"She's friendly with everybody," CHS special education teacher Bunny Hymer said. "Even if she doesn't know a stranger. She's very attentive to her person and she's well loved by everybody. She loves everybody in the gym when we're at P.E."
London is a yellow labrador dog who works as a comfort service animal. The student she supports has autism and London helps calming anxiety and stress.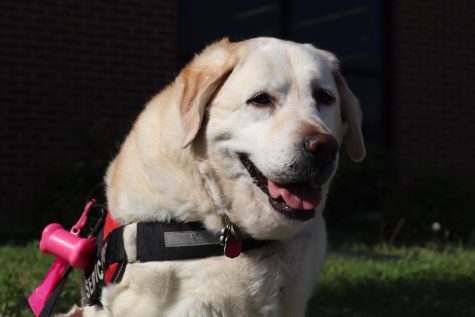 "Her job is to be close to her person," CHS special education teacher Gabe Walker said. "When he's having a hard time or deliberating any kind of feelings of anxiety, London's presence [helps calm him down]."
Under the Family Educational Rights and Privacy Act (FERPA) laws, the special needs students were not able to be interviewed for privacy protection.
During working hours, service dogs assist the students professionally and are not allowed to be petted as a distraction.
"The most important thing is that generally, when a service dog works, he's not allowed to be pet," Samberson said. "It's always a good idea to ask whoever's in charge if they can pet him, because he does need some positive reinforcement and enjoys people and wants to be petted. But generally, when he's tethered to the student, he needs to be doing his job to keep the student safe." 
Follow Tracy (@AnhImtracy) and @CHSCampusNews on Twitter.