Zaidi scaling to great heights with trumpet
Though Coppell High School senior Zain Zaidi considers himself optimistic, he didn't expect much when he joined the Coppell Middle School North band in sixth grade, considering he had no prior experience with music.
"I never really thought that I was going to do very well," Zaidi said. "I didn't have any expectations for myself."
But what Zaidi's middle school self would especially not expect is how far he would get in the next few years. In seventh grade, Zaidi auditioned for the middle school All-City band and was surprised when he was accepted. 
"It was like, 'oh, I may be actually good at this instrument," Zaidi said. "In eighth grade and high school, I think that's when the shift occurred."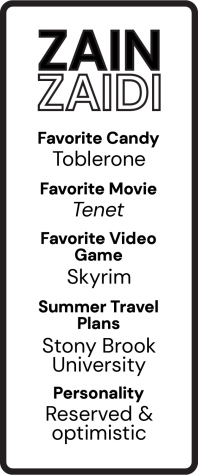 Zaidi entered into the junior division of the National Trumpet Competition in his freshman year and ended up advancing to the semifinals of the competition, and while he didn't place, Zaidi didn't let that stop him.

"Instead of stepping down, you should step forward," Zaidi said. "You keep pushing and keep realizing that it's not a pit you're in."
On Dec. 10, Zaidi entered into the high school division of the National Trumpet Competition with a recording of him playing eight minutes of the Pakhmutova Trumpet Concerto.
After the entry phase of the competition, the remaining rounds took place in person at the University of Delaware from March 30 to April 2, and Zaidi, up till the semifinals, had been familiar with the competition from his previous experience.
However, he entered uncharted waters when the finals took place. Zaidi felt even more nervous because he would be performing in front of other high school division trumpet players, in addition to the judges.
"If you play the same instrument, [the students are] going to judge how you sound and awkwardly make faces from that," Zaidi said.
But he pushed through the nerves and won second place in the competition. In addition, Zaidi and senior band president Hamza Hussain, as part of the Greater Dallas Youth Orchestra, won first place in the high school ensemble division.
Though he wishes he had placed higher, Zaidi thinks he had the right mindset afterwards.
"You should be happy you're at the place you are right now," Zaidi said. "That's what I was more happy about: my own emotional achievement of being in a state where I wasn't self-deprecating, as I was in the past."
Zaidi is also a trumpet section leader in the CHS Band, where his responsibilities range from teaching the section to being a role model. His goal to be a section leader stemmed from his desire to change the persona of the trumpet section to be one less raucous.
"I wanted to move that away, because I knew that I didn't have those qualities in me. I wanted to change the dynamic of the trumpet section," Zaidi said.
CHS senior band vice president Sahan Yerram, who works frequently with Zaidi to plan focused and efficient band rehearsals, thinks he has great qualities as a leader.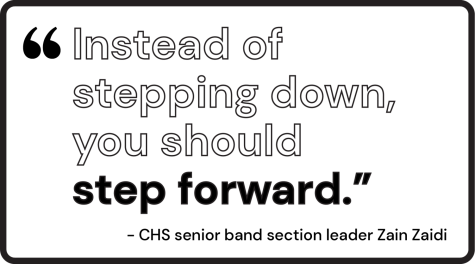 "[Zaidi] really sticks up for what he believes in," Yerram said. "But he also has an open mind, which is a good thing. So it's been nice working with him because of how responsible he is as a leader and how much integrity he has." 
CHS Band director Kimberly Shuttlesworth, who has known Zaidi since the band leadership camp in July, describes Zaidi as extremely hardworking.
"He spends countless hours making sure he's the best version of himself when it comes to being human, but also when it comes to being a musician," Shuttlesworth said. "He works long, hard hours to be able to do what he does and it pays off for him."
But the trumpet isn't Zaidi's only passion. 
"Before doing trumpet, I was really interested in just science," Zaidi said. "And I was like a big nerd basically." 
In fact, as he explained his first place chemistry section Dallas Regional Science and Engineering Fair project from his freshman year, Zaidi chuckled, "This has become a chemistry lesson." 
As his hands energetically gesture to invisible periodic tables and equations, it is not hard to see the enthusiasm Zaidi shows for chemistry.
Zaidi has committed to Stony Brook University in Long Island, NY, where he wishes to major in either physical chemistry or chemical physics.
Though he loves both his passions, trumpet and chemistry, Zaidi had difficulty in picking one to pursue.
"A very big concern was that I'm going to lose my hard work, or I'm just going to lose interest and never play trumpet again," Zaidi said.
Zaidi thinks he has done good work along with the other trumpet section leaders, and he thinks that one important thing he wants to impart with his section is his optimism.
"Not even just about music," Zaidi said. "It's about life in general. Because that allows you to be motivated about things that you wouldn't be motivated about, like getting out of bed every morning."
Follow Srihari (@_fgmx) and @CHSCampusNews on Twitter.