Doggett diving into teaching
Laronna Doggett is a Gifted and Talented (GT) and honors biology teacher, biology team lead, lab manager, and eco-club sponsor at CHS9. Although teaching wasn't always the plan for Doggett, she fell in love with teaching throughout her college education.
Doggett was honored as the CHS9 March Teacher Spotlight and believes in pushing students to fulfill their potential whether that be in class or outside. She hopes that every student can learn something new from her class and can find their passions through her teachings.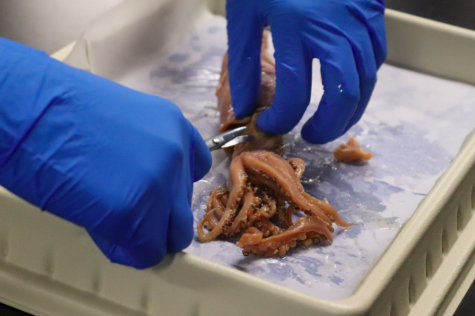 Why did you begin your teaching career?
I originally wasn't interested in teaching because my degree is in marine biology and marine fisheries. But one day my college roommate's mom asked me and my college roommate to go volunteer at an elementary school to tutor students in biology. After a couple of times going and teaching the kids I learned that I enjoyed it and was passionate about it. Then after I graduated from college, I started volunteering at the Dallas Zoo in the education department for two years where I got more of a feel for teaching and interacting with kids and I enjoyed it. From all this teaching experience I was very motivated to get my teaching certificate and start teaching students in school, and after I got my certificate I started teaching biology and sciences to high schoolers.
What is your favorite part of being a teacher?
I enjoy teaching biology and having my students learn from me, but I especially enjoy students finding their way and passion in class and what they want to pursue in the future whether it is science-related or not. I also just like interacting with the students and hopefully helping them become better students, people, and doers of our planet.
What have you learned from being a teacher?
A lot of things, like every student, are important and every student can learn something new. I have also learned to make sure that every student knows that you are here for them and that you have high expectations for them that they can reach. Back when I taught aquatic science at the high school I pushed many seniors toward the graduation point because I knew that every single one of them could make it there. And I think I mainly learned that you need to believe in every student's success even when they don't believe in themselves.
How are you currently pursuing your interests in marine biology and what you studied in college?
Before I taught biology at CHS9, I used to teach astrology at the high school which was something that I was also largely interested in during college so that interest followed through from college to my career. I also used to volunteer at the Dallas Zoo and Aquarium which also allowed me to pose my interests in marine biology and teaching students.