Old Town, new developments
Historic district turning into enjoyable experience
Old Town Coppell is a location of contrasts. While the restored Kirkland House and replicated Minyard Drug Store add historical context, the 2012 addition of the Darling Home community and the 2015 addition of George Coffee + Provisions create a sense of newness in the city while preserving the vintage style.
Old Town was once called Gibbs Station, the original Coppell development at the intersection of Bethel and South Coppell Roads. Its development has been a primary agenda item for the city since 2002, when the council adopted the Old Coppell Master Plan. The plan mapped out design and functional focuses and desires, and set in stone the intention to preserve the historic value of Old Town by adhering to certain design principles. 
These standards were laid out in 2005 when the original area was named an Historic District. Also, the Coppell Historical Society conducted its Historic Resource Survey in 2009, designating historic areas and outlining how to enhance or preserve their visual impact and importance. The Historical Society looked foremostly at pre-World War II buildings in styles from Folk Victorian to Craftsman.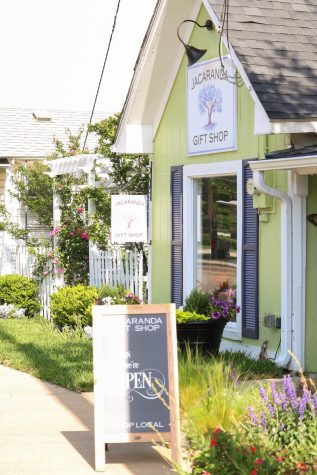 In 2007, the city recognized and began to develop the spot with retail, offices and restaurants abiding by the approved style. Today, the historic area has surpassed the Master Plan's laid out goals with the Coppell Arts Center, stylized housing developments, Farmer's Market and Square at Old Town creating a cultural and event hub.
Amanda Vanhoozier, the owner of Bishop Hill Farm Flowers, was the creator of the Coppell Farmers Market in 2002, and has been selling her own products at the market since 2018. Working for Coppell at the Coppell Community Garden, Bambico developed the farmer's market idea from the Master Plan into a reality.
"Working at the gardens, people wanted to buy vegetables and it just became clear that people were ready to buy fresh produce," Bambico said. "It was to increase some interest in the area, which a farmer's market could do very quickly. Once we started the market, I've seen an increase in the number of farms around us just because there's a market." 
Tattered Style is a vintage and handmade home store started by Dana Pugh on Bethel Road in 2017. The building was a post office in the 1940s, and beside it is a decorative gas station.
"We were hoping to see Coppell grow into more than just offices," Dana's husband Nate Pugh said. "Have some cool retail shops to go to. We saw there was a need for a home goods store, so my wife set one up."
Yet while it progresses to include live-work units and new retail options in hopes of becoming a destination like The Shops at Legacy in Plano or Southlake Town Square, charm remains in its restored buildings. In Heritage Park, there is the 1904-built Kirkland House of John M. and Edna Jeanette Kirkland donated by the family of Wheelice Wilson. There is also a replica of the original Minyards grocery, which was relocated to Heritage Park in 2011. Similarly there is the Ihnfeldt House, one of the oldest in Coppell as it was built in 1934, which was moved to Heritage Park in 2016 after being donated by Sarah and Rory Carrick, now owners of Jacaranda Gift Shop in Old Town.
"We love old houses, so that was one of the reasons we wanted to be in this building," Sarah Carrick said. "We didn't want to rent some commercial space. When we had the house, we preserved it how we could, picked it up a bit, made it pretty."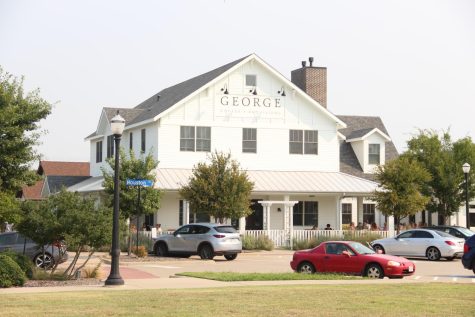 All of the historical implementations contribute to Old Town's image as not only an historic area, but a center for commerce and days out. Its focus on being pedestrian friendly and creating an experience has attracted new businesses such as Tangerine Salon to relocate to what used to be Dodie's in 2021 from Denton Tap Road. Tangerine also has its corporate headquarters for its five locations in Old Town.
"When it came time to decide what to do with our Coppell location as the lease was ending and the Old Town opportunity arose, I knew this was the premiere place in Coppell," Tangerine Salon owner Brandon Hensley said. "With Old Town, you can pull up to our location with our beautiful huge porch, seating across from the park, an Instagram wall, George Coffee shop and you can have a meal after your appointment. It's more of an experience in this location, rather than pulling in off the street and that's it."
Coppell's Vision 2040 plan relies on Old Town as a characteristic that emphasizes a uniqueness not available in neighboring cities. While many of the identified historic buildings from the Survey have been demolished or replaced, as none of the original plans forced their permanence, new branding such as the Old Town Coppell logo creates a distinctive environment. The city, to capitalize off the rush of the arts center and new business implementations, is expanding, approving a two-story residential and retail building for Let it Shine boutique and five more live-work units in 2021. 
It seems that even in Old Town, there will always be something new to look out for. 
Follow Anjali (@anjalikrishna_) and @CHSCampusNews on Twitter.