Senior Showcase marks a beautiful end for talented actors
As the lights dim and the audience quiets, the buzz of anticipation grows as the show begins. The stage transforms as the actors swiftly slip into the first act, having the audience laughing in seconds. By the end of the show, there isn't a dry eye in sight as the theater thunders with applause.
The Coppell High School's Senior Showcase will be one to remember with its talented performances and unique scene line up, tailored to fit each member's strengths. 
"These pieces have been selected by the seniors and they're deeply personal," CHS head theater director Karen Ruth said. "They have put their flavor in [these pieces] now that they're moving forward as young adults."
The show is also a tribute to the time the seniors had lost during the pandemic.
"Several of our pieces are pieces we're bringing back that we were supposed to do during the pandemic," Ruth said. "They're even better now, [after] two years of maturing."
In its ability to give the seniors an opportunity to perform, the showcase also gave them strength to show how they have grown. 
"I have not performed since eighth grade due to stage fright," CHS senior Kai Miller said. "It feels incredible that I've come so far from where I was."
The pieces brought to life covered a variety of tough subjects, giving the audience an enlightened perspective. The production has a PG-13 rating for mature audiences with the trigger warnings being discussion of suicide, sexual assault, bullying and substance abuse.
"We want to make sure that when people are attending, they understand that there's some stuff that could be hard to hear, especially if it's something you may have experienced before," Ruth said. "They're important things to be heard and to be able to express how we feel through art."
The cast had two weeks for the entire preparation for the showcase. What would be usually a daunting task, the seniors took it in stride and were able to create a beautiful production.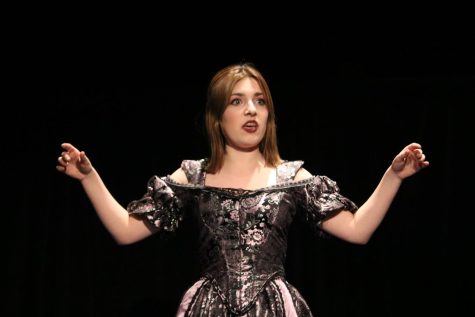 "We put this show up in two weeks, which was very stressful," CHS senior Emma Hoque said. "But, we pulled it off very well."
With heart-touching performances and beautiful singing, the cast connected with the audience on another level.
"The emotion that I felt in their voices was amazing," CHS senior Kang said. "I enjoyed every performance and the hard work."
Theater has become a community to laugh and love in, something that each senior will remember as they go further on their path.
"We have thousands of little inside jokes in the theater department," CHS senior Joshua Baker said. "We're all a small family, with the seniors being a smaller family."
This show is a tearful poignant ending for the senior's high school theater career.
"Everyone's sad that this is the last show and it's bittersweet," Baker said. "Everyone is sad, happy and proud and connected with that feeling."
The production is more than a final play for the seniors. This play signifies the dedication they have put in during these past few years.
"This is their last moment on stage and it's time to honor them," Ruth said. "Honor what their final words are going to be as we send them off into the next chapter of their life."
Follow Maya (@mvpalovalley) and @CHSCampusNews on Twitter.