Cowgirls triumph over Plano in final inning
After the Lady Wolves put up two runs to take a one-run lead in the sixth inning, the Cowgirls knew they needed to respond.
"We did a really good job when the pressure was on us, make sure we're scoring some runs with the pressure's on us," Coppell coach Ashley Minick said. "We made some timely hits."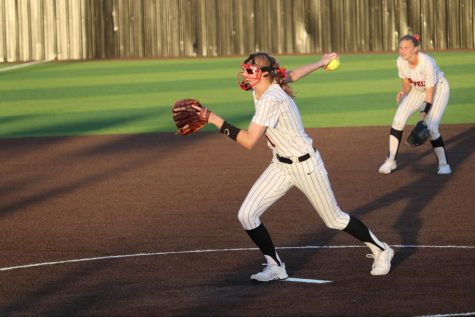 In the seventh inning, the Cowgirls loaded the bases. Freshman courtesy runner Natalie Howell and sophomore infielder Mallory Moore stood on third and second base, respectively. Coppell's next batter scored both Howell and Moore to close out the game, giving the Cowgirls a 5-3 victory against Plano West at the Coppell ISD Baseball/Softball Complex on Tuesday. 
"In the future, we'd like to score more runs in the first few innings," Coppell junior catcher Medleigh Danchak said. "We took a few more innings than we should have to get to that point."
Coppell put up one run in the first inning to take the lead. Though Plano West evened out in the top of the third, the Cowgirls were able to put out a quick runner. After scoring in the fourth to retake the lead, energy ran low on both sides in the fifth inning.
"We didn't expect the fifth inning, where we weren't as energized," Coppell sophomore pitcher Maddie Sigman said. "It was surprising to see that, so we had to work to get our energy back up."
Two runs from Plano West in the sixth inning gave the Cowgirls back their energy, and they came back roaring in the seventh. Miller pitched, and kept Plano West out at the top of the seventh, getting Plano junior center fielder Adayah Wallace out trying to steal third.
"[Plano West] had a lot of quick girls," Danchak said. "We had to be quicker and we had to fight back."
Follow Yaamini (@yjois12) and @SidekickSports on Twitter.