Take off your mask: Imposter Syndrome does not define you
My favorite artwork is "Ophelia" by Sir John Everett Millais, a vivid depiction of a ginger woman sinking in all her elegance.
Her hand lightly clutches deliberately painted flowers. Her flowing hair rests gently on clear waters. Her gown glitters amongst the rich green brush. But her face, her face houses vacant eyes and helpless lips: subtle indicators of her desperation. 
"Ophelia" was the product of several months of work, a multitude of preparatory sketches and studies and years of technical education. Most of which my artistic project lacks. 
My reverence for the likes of Michelangelo and Leonardo da Vinci subjects me to a perpetual cycle of questioning my abilities. When my peers refer to me as an artist or a competition names me as victorious, my mind returns to the pieces strategically created by the greats and a harmful line of questioning starts in my own head.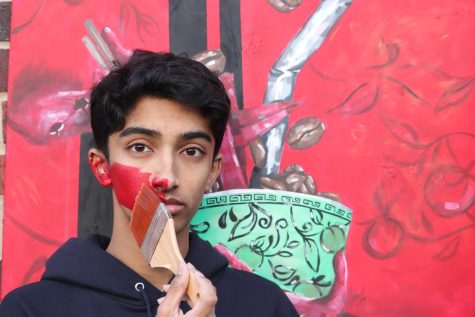 Do I belong?
Am I good enough?
Why do I never feel content?
This cycle is one that is universally understood due to the heightened competition in our lives. From school to extracurriculars, every facet of our lives puts us in comparison with someone else, and whether manifestations of our own insecurities or imposed upon us by our loved ones, it is difficult to cope with the feeling of unworthiness.
A feeling of unworthiness or uncomfort is often a result of Imposter Syndrome. Imposter Syndrome is born out of the "pressure to achieve," and labels the sense of feeling inadequate among your peers even when success emerges. However, because Imposter Syndrome plagues society, its effects are often sidelined.  In a fast-paced world, people do not pay attention to the anxiety and fear of not belonging because of Imposter Syndrome, allowing it to garner a stronger influence on their lives. 
It is OK to feel like you adorn a mask around your peers in a certain space. What is not OK is allowing that mask to envelop who you are and to undermine your accomplishments. Imposter Syndrome steals from who we are and where we came from, and the feeling of worthiness is empowering. Do not let yourself disappear behind a mask or fall back into the shadows.
The first step in confronting the negative effects of the syndrome is societal recognition and acceptance. Many let it go as "fishing for compliments," or just being humble, but it is not that simple. Imposter Syndrome is not black or white but instead falls somewhere in the middle. Though the line in the sand is blurry and difficult to visualize, Imposter Syndrome generates self–doubt while humbleness is rooted in feeling content and good enough.
To resolve the overwhelming feelings of self doubt associated with self awareness, we must celebrate ourselves and practice self love. 
Let's take off our masks. 
People often do not give themselves enough credit, which feeds into the idea that they are inadequate. However, when we appreciate our accomplishments and recognize our worth, we can challenge Imposter Syndrome and begin to understand ourselves and our position better. 
Imposter Syndrome does not have to define you. To cope with it is to overcome it, and the mechanism to do just that lies in the colors in between black and white. The same colors that radiate off of the flowers that "Ophelia" grips onto. 
And the fact of the matter is, you are worthy. You do belong in the landscape dotted with success stories, even if it isn't obvious to you. We spend our entire lives questioning our capacity to act and to succeed, when we should embrace it instead. 
For  more resources on dealing with Imposter Syndrome, visit https://www.apa.org/monitor/2021/06/cover-impostor-phenomenon
Follow Shrayes (@ShrayesGunna) and @CHSCampusNews on Twitter.