Cowgirls challenge Rockwall with mentality, break ties in overtime
Sophomore midfielder Ally Gunnels's overtime goal gave the Coppell girls lacrosse team a 12-11 victory over Rockwall  on Thursday at Coppell Middle School North. The Cowgirls built an early three-goal lead before the Yellowjackets rallied to tie at 6-6 just before halftime.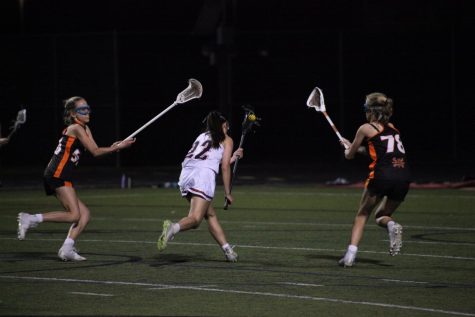 "We persevered and remembered that we're here for each other and we're here to play our own game," Coppell senior defender Emma Garcia said. "We are not here to play against them, play against the refs or play against the coaches. We're here to play and better ourselves and our team."
At the start of the second half, referees stopped the game to speak with both team's coaches and captains concerning their displeasure with the officiating. 
"This is always a competitive game and both teams were on-edge, so I think they were just making sure that everyone was calm and safe. They were just checking-in on everyone," Coppell assistant Julia Golden said.
A Rockwall score with 20 seconds remaining in regulation sent the game into overtime. 
"Today was a mental game," Garcia said. "We've seen this team in the past, and we let that get to us on the field tonight."
Gunnels scored in the final seconds of overtime to secure the win.
"We dipped down for a while, but I think it showed our overall ability to come back," Golden said. "Our mentality was able to fight the entire game, and eventually help us win in overtime, just like in Keller."
Coppell plays Prosper on Saturday at 6:30 p.m. at CMS North, and the Cowgirls look forward to making enhancements on its approach to transitions and ground balls.
"The biggest thing for us is our transitions from this game and ground balls. We definitely fell short on ground balls," Golden said. "That's our next focus because we have two counter games next week. We would've hoped to stay strong and focused throughout the game, but that's definitely our goal moving on."
Follow (@sreehithaMorav) and @SidekickSports on Twitter.