Only one call away
Radicic, Myers to play in All American Bowl
One January phone call gave two players the game of their lifetime, an accolade for being one of the best in not just their school, but the entire country. 
Coppell junior kicker Nic Radicic immediately shook the hand of his opponents when he got his call. He then went to hug his dad Tom Radicic, his inspiration and role model.
The same call took Coppell junior corner back Braxton Myers back to his fifth grade self: the one who had just started playing football. The one that would have looked up to who he is today. 
Radicic and Myers are competing in the All-American Bowl, composed of the top 100 players in the nation divided into East and West teams. Both Radicic and Myers are playing on the West team on January 7. 2023 at the Alamodome in San Antonio. 
"My heart dropped," Myers said. "I was with my dad getting Wingstop and they called me and I got so excited. It's everything I've been working for."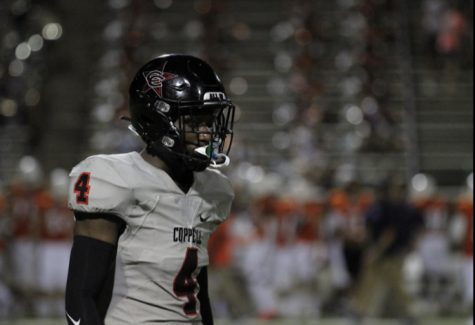 The boys met through their fondness of football this year at CHS, and were selected to play through the Chris Sailer Kicking and Rubio Long Snapping Vegas summer camp. 
"It was amazing," Radicic said. "I got invited [to the camp] about six months before that and to come compete, I was pretty excited to do that in the first place."
Each member of the camp got eight kicks and had to qualify with a set amount of points in order to make it to the All–American competition, which was another round of testing for the players. 
"It's a lot of hard work," Radicic said. "A lot of people think that us football players go to practice in the morning in the weight room and go to school and go home, but it's a lot happening outside of school. I went to kick at least three times a week after school. I went to do sprints, ran a lot, lifted weights. It was just a lot of things going into competing for one spot."
Former Coppell football coach Mike DeWitt thinks that both players earned their spots in the game.
"They're very talented," DeWitt said. "Both of them have done a lot of work outside of school, outside of the athletic practices and the combination of their gifts with the hard work outside of workouts here have certainly earned them an opportunity to play with the best." 
Both players continue to push themselves and train outside of practice in order to match the other players. 
"I met Radicic right when I came to Coppell," Myers said. "He does his extra work every week and I do my extra work and it is just correlating together and all grinding. Even celebration wise, if we do something good we celebrate together." 
With continued dedication and support from each other, Myers and Radicic work diligently for the upcoming game. 
"Braxton came to Coppell this year and right away, I knew he was a good player," Radicic said. "I try to surround myself with good people that I can build with and become better. Our relationship built a lot and I find him as one of my better friends. "
Follow Sreeja (@sreejamudumby) and @TheSidekickSports on Twitter.