Boys soccer remains in playoff chase with victory over Lewisville
On Friday, the Coppell boys soccer team defeated Lewisville, 2-1 at Buddy Echols Field. A goal by sophomore forward Gareth Murillo was the difference in ensuring a Coppell win.
"The last goal made by [Murillo] was a very important one for us," Coppell assistant Abu Conteh said. "It came off a rebound shot and he put it away." 
Coppell sophomore center midfielder Sam Stone and right midfielder Pedro Perez-Pareja were key players in the match, with Perez-Pareja scoring the first goal of the game during the first half.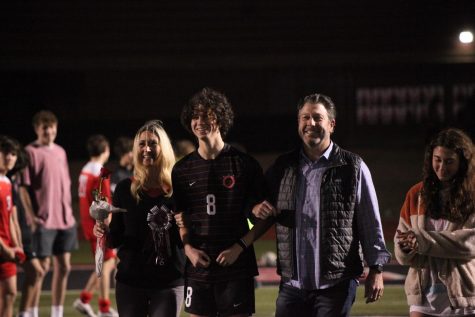 "We knew from the last away game we played against Lewisville that we had to work hard today," Perez-Pareja said. "Lewisville puts a lot of players in the midfield, so we did the same to take them on."
After losing 3-1 at Lewisville on Feb. 8, Friday's match allowed the Cowboys to use what they knew about Lewisville's playing style to create a better playing strategy.
"We got our first goal early on, which put us in a good position in the game," Stone said. "Lewisville is really fast and gets a lot of long balls, but we were able to shut them down."
For the Cowboys, Friday's game was about matching Lewisville's techniques while maintaining a strong lead.
"Lewisville presses well, so it's hard to beat them," Conteh said. "[The Cowboys] went after the ball and pressed well, so their hard work really paid off."
Prior to Friday's match, the Cowboys celebrated its seniors during the annual Senior Night ceremony. Today's Senior Night honored 19 total seniors, with 17 of them being varsity players. 
Coppell plays at Plano East on Tuesday, needing a win to remain in playoff contention.
Follow Yaamini (@yjois12) and @SidekickSports on Twitter.