Sophomore amateur photographer takes advantage of winter weather
After Thursday's light snowfall came to a stop, Coppell High School sophomore Akshat Ghuge looked around and saw blankets of crystallized snow coating his yard and surrounding rooftops in the neighborhood. 
The clean layers of snow served as a natural backdrop to capture his LEGO action figures in motion. So they took out their iPhone 13 and got to work, adding yet another post to his Instagram (@akshat.ph) dedicated to photography. 
"I do all of my photography on my phone, I don't really have any extra lighting or anything," Ghuge said. "I want to keep the environment as natural as possible. In this case, where I took my LEGO [set] out into the snow, I wanted it to look like I just found them in the snow." 
LEGO figures stood out as the right choice for Ghuge because of how they capture the focus of an iPhone camera, rather than expansive areas. 
"They were the first thing I thought of," Ghuge said. "For a while, I was thinking about how I could do LEGO photography with a nice background, because normally I don't have a great background to take photos with. I felt like taking photos in the snow was an interesting idea that I had never tried before." 
One of the photos that resonated with his audience is one that captured LEGO Spiderman hanging from a spiderweb off the side of a brick house.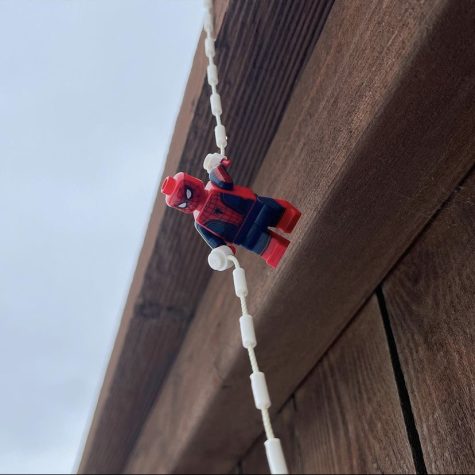 "I was still riding off the hype from Spiderman: No Way Home," Ghuge said. "I thought the concept of Spiderman hanging down from somewhere was really interesting. I felt like that was one of the only photos where the character was in motion, and it felt the most real out of the photos that I posted." 
Ghuge began their Instagram account in eighth grade, after being inspired by fellow Coppell Middle School West students Ishaan Kashyap and Virinchi Vellampalli. 
"I thought it was really cool what they were doing,"  Ghuge said. "I decided I wanted to start taking photos of stuff around me. After taking more and more photos, I started to develop a love for photography and I kept that going." 
He started in 2019 using an iPhone 8 plus transitioning to an iPhone 13 this year.  Their choice to use cell phone cameras rather than professional cameras was an informed one, aimed to capture his photos as naturally as possible. 
"I really like photography," Ghuge said. "But, I feel like using a camera is not as natural as an iPhone. I don't want to come across as a professional, I just want to show that I am someone that really likes photography." 
You can find more of Akshat's pictures on Instagram (@akshat.ph). 
Follow Anette (@AnetteVarghese) and @CHSCampusNews on Twitter.