Next man up
Coppell basketball team rebuilds as players move on
Athletes come and go. 
It is one of the more challenging aspects of high school athletics: as athletes grow and take on roles more vital to their teams, the clock for them to graduate keeps ticking.
"It's a year to year thing," Coppell boys basketball coach Clint Schnell said. "You'll have guys that, their senior year, finish and move on and you have to take the class that's behind them or a couple classes behind them and mix them into the rosters going into the next season. That's part of the process, to rotate guys through as they come through their four years of high school."
For the Coppell boys basketball team, this year is a rebuilding year. Coming into this season, the Cowboys lost three key players: Duncanville senior guard Anthony Black and Coppell High School 2021 graduates Ben Klement and Tim O'Hearn. Top returnees are senior forward Ryan Agarwal and guards Devank Rane and Naz Brown.
"This year, we have a lot more seniors and we don't have that many players with a lot of varsity experience," Coppell senior forward Noel Berhe said. "It was kind of a challenge, but we had a lot of good pieces coming into the season. We had high expectations because of the past few years."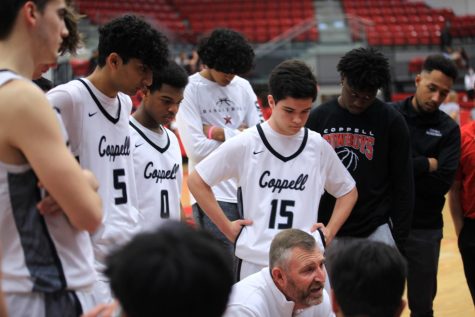 Gaps left from last year's roster have given seniors the opportunity to take on larger roles on the team. On the court, athletes like Rane are using their prior varsity experience to lead the team on the court, while first-year varsity seniors such as Berhe now have the opportunity to explore their own roles on the team and increase minutes on the court.
"We have a lot of new guys that had to step up and take on bigger roles than what we were expecting this year," Agarwal said. "With a lot of seniors leaving, the coaches and a lot of the team knew that we had to incorporate [new] guys. Throughout practices we were looking for guys that would help and step up in [to those] roles. [There was] a lot of team chemistry to be rebuilt in certain ways and we've done a good job of that; we started in the preseason with team dinners and open gyms."
As team dynamics and personnel change, so must Coppell's play style.
"This year, we don't have as much size," Agarwal said. "We're playing bigger and faster than we are and using that to our advantage offensively. We adapt to who we have on the team and we're not saying one person has to take over the role of whoever left, but as a group we have to be able to take over that role. Each person individually can do something to fill that void."
At the beginning of this season, Rane took on the role of leading the Cowboys in the absences of Agarwal and Brown (who, according to Schnell, were out due to injuries) and was the Cowboys' sole returning starter for multiple games. Last season, Rane was a starter for the Cowboys, but was oftentimes underused in comparison to the elite pairing of Agarwal and Black.
"Devank's been a three-year varsity player for us," Schnell said. "He's taken on that leadership mantle for the team and helped them run things in games. [Agarwal and Brown being out] forced that senior veteran leadership. I rely on those guys that are coming back from previous years of playing varsity and let them set the standard and the expectations that we want those younger guys to rise up to."
Younger players, such as sophomore forward Arhan Lapsiwala, sophomore center Baron Tipton and sophomore guard Alex Tung, have stepped up this season.
"Tung and I have started [in roughly] 26 games so far," Lapsiwala said. "With Agarwal and Brown, we're obviously not one of the main options, but we still get our shots. Without them we've had to take care of the ball the whole time and play every minute to take on their roles."
This isn't a new process within athletics. It happens every year. Programs are set up to overcome and nurture this constant influx of athletes by gradually increasing difficulty over a player's four years.
"The expectations we have for players gradually increase as they go from the freshman team up to varsity; it's a process for those guys to learn," Schnell said. "It takes them a little bit of time to realize the intensity of the situation and [how much] little things matter, [like] making a hard cut coming off a screen, and that you can't necessarily rely on your ability and your athleticism that might have been at a higher level at the lower levels, [but at a varsity level] everybody can play. It puts more emphasis on their ability to rise up and be great at what they do and not just 'good enough.'"
However, some years can be more challenging than others. Depending on an athlete's skill set and a team's dynamics, players may be called upon in higher risk situations earlier on in their careers. For the Cowboys, Tung, Tipton and Lapsiwala have been called upon to play in these higher-risk situations earlier on in their athletic careers.
"It's challenging because last year, we were freshmen and it was a lot easier because the competition [was our size], but now we're playing a lot bigger, older and stronger guys," Lapsiwala said. "[You have to] be able to not only take care of yourself, but also your teammates. The earlier that Tung, Tipton and I get used to leading the team and are ready for that, the easier it'll be next year when we actually have to do it and fill those roles."
Having strong, vocal leaders can ease the transition for these younger, less experienced athletes. Seniors Rane, Agarwal, Brown and even guard Eric Lampkin have provided the needed leadership to push the Cowboys through this transition.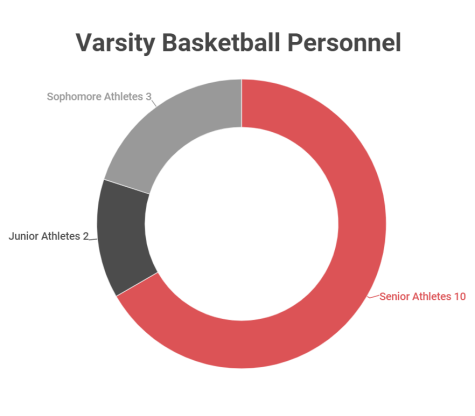 "It's hard because we have to figure each other out and see how well we play together, but at the same time, it wasn't too hard [because we had] really strong leaders, Rane, Brown and Agarwal, who are really vocal and can lead a team," Berhe said. "They're able to give structure by being vocal leaders and demonstrating through their actions. It really gives us an idea to model after having them; it's a blessing because if you can follow in their footsteps (but also kind of do your own thing and find your own playstyle) [you can] see what works and what role you should fill in with the team to help the team succeed."
This model is especially important considering that the Cowboys roster is currently comprised of 10 seniors out of 15 varsity athletes.
"It will help [the program in the future] because, for the new class, this was a huge learning year," Berhe said. "They get to see how we work together and how a team is supposed to look at the varsity level and they can apply that to next season. For them, being able to see what leadership should look like and be like will help them these next few years to become leaders and step into the roles that our current senior class is about to leave them with."
While the process of constantly adapting to a new team dynamic can be difficult, especially for coaches who are trying to make their team's success increase each year, it is unavoidable. Yet there is possibly an upside to learning this patience.
"I've been through this whole process from freshman to senior year, [from] riding the bench my freshman year with a lot of those district games and [fighting] to get minutes, and slowly increasing my role and minutes, I know the process now and I've gone through the four year process," Agarwal said. "That'll help me a lot when I go to college, mentally and in my game to not to ever get down and to know that there's better days to come."
If athletes can learn how to adapt to these situations it will continue to help them later in life.
"It's a metaphor for life," Schnell said. "Even in life, people are [constantly] striving for better things: a better career, improving your family, improving your marriage, improving raising your kids. It's just the idea of never getting complacent. You come in as a freshman and most guys probably play their freshman year, but it's that learning process and you conquer that level and move on to the next one, the bigger challenge, and you conquer that one. It's all part of the growth and process of becoming a complete player. If you're fortunate to go play at the next level in college, that's the next challenge that's in front of you."
Follow Torie (@torielpeck) and @SidekickSports on Twitter.