Shortbread cookies to melt in your mouth
Sweet, buttery and flaky, shortbread cookies are a classic Scottish delight enjoyed around the world. The cookie received its name from its crumbly texture or short, which refers to its high butter content. These homemade cookies will have you baking merrily and enjoying a treat at the end.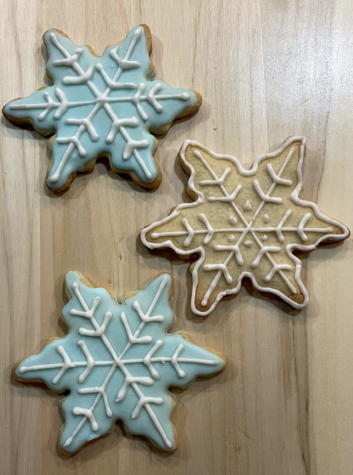 Ingredients:
Cookies
¾ cup butter

¾ cup sugar

1 pinch of salt

½ egg 

1 egg yolk

1 teaspoon vanilla extract

1 ¾ cup all-purpose flour

Cornstarch for dusting

¼ teaspoon baking powder
Icing (optional)
2 cups powdered sugar

1 teaspoon vanilla extract

2 tablespoons pasteurized egg whites
Preparation:
Cream butter and sugar together in the bowl for around five minutes until the mixture is light and smooth. Make sure to scrape the sides of the bowl to fully incorporate the sugar and butter.

Combine half of a beaten egg with one egg yolk. Pour egg mixture and vanilla extract into creamed butter. Incorporate the wet ingredients into the butter mixture.

Mix baking powder into the flour and sift into the creamed butter. 

Fold the dry ingredients into the butter mixture and mix until the dough is uniform.

Empty the dough onto plastic wrap and press it into a flat shape for storage. Wrap and refrigerate for three hours or until firm.

Dust workspace with cornstarch or flour to prevent the dough from sticking. Press dough with a rolling pin and roll out dough to quarter-inch thickness.

Cut out desired shapes and place on a baking sheet.

Continue rolling and cutting out shapes until the dough is used up.

Bake cookies at 350º F for 12 minutes.

Ice cookies (optional)

Whisk together powdered sugar, vanilla extract and pasteurized egg whites.

Repeat step one in a separate bowl and add blue food coloring. Pour icing into two piping bags.

Pipe a blue outline along the border of the cookie. Fill the inside with blue icing. Wait two minutes for the icing to set.

Pipe three lines with white icing from each tip of the cookie. Add small v-shaped decorations on each of the lines.

Serve and enjoy.
Follow Sruthi (@sruthi_lingam) and @CHSCampusNews on Twitter.