Prathapam puts effort in the present to pursue engineering
Watching him build his CO2 dragster, it is very clear that Coppell High School junior Tanai Prathapam put a lot of extra effort and precision into designing the car. 
Prathapam is an aspiring engineer and the CO2 dragster is an assignment for class that was given to the students last school year. The project carried over to this school year and the engineering students will be racing them soon.
"My favorite part of [engineering] is learning the ropes," Prathapam said. "One of the big things about engineering is the teacher doesn't actually give you lectures; he gives you a brief idea of your objective and you figure it out along the way. So what I like about the dragster project is that there are a lot of things we didn't know to do before [and the] process of trying to figure it out on my own and the satisfaction of finally getting it right."
Prathapam plans to pursue engineering in the future, although he is not sure which specific field.
"I'm glad that he's still looking around and seeing because engineering is always changing," Coppell High School engineering teacher Michael Yakubovsky said. "By time he graduates from college there will probably be some new [engineering] careers and technologies and so the fact he's still figuring it out leaves his options open. I see him doing really well with engineering [and] moving higher up
into some type of management or executive position because he's got that mindset of taking things further and making sure that things are done right."
Not only do his teachers notice his passion, but so do his peers.
"He's really dedicated to whatever work he's doing," said CHS junior Pranamya Pagedar, an engineering classmate of Prathapam since ninth grade. "He's knowledgeable about most topics and he's good at being a team player."
Prathapam is also a UNICEF officer and vice president of the Club for the second year in a row. According to CHS junior Kanna Iyyappan, president of the UNICEF Club, he has been a part of the Club since he started it.
"He always does the tasks assigned to him," Iyyappan said. "He's always ready to lead committees and is dedicated and puts initiative into our mission. He's really passionate about speaking or presenting, he just likes public speaking in general. He's a great guy, he truly cares about everyone and wants everyone around him to improve."
Since they were not able to do much last year during virtual learning, this year Prathapam is enjoying organizing events. So far this year, the UNICEF Club has had a book drive and will have a movie night on Dec. 16.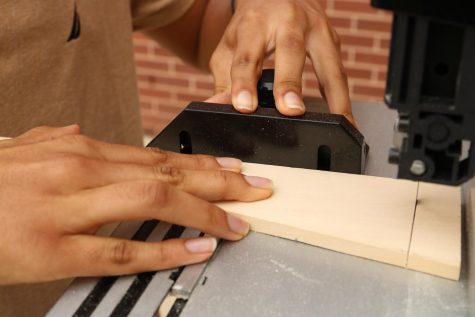 "My favorite part [of UNICEF Club] is the freedom of the Club," Prathapam said. "Our goal mostly is to fundraise at least $1,000 to give to UNICEF but the method of how we do it is what we have freedom for. There isn't a set rule or basis on how we're supposed to operate. So we're extremely open to new ideas from any member. I like that flexibility and freedom that we have."
While the UNICEF Club's aim is to help people, Prathapam's engineering skills can accomplish that as well.
"He really puts a lot of effort into designing things that make sense," Yakubovsky said. "Things that are useful. Not just, OK this is kind of a cool idea, but this is a cool idea that will be useful too. Because engineers, their whole purpose is to build and design things to meet human needs and to make the world a better place for people and he really does a good job of it. He puts a lot of effort into that and it really takes time to do the level of work he does."
Most of Prathapam's time and effort is spent on engineering, and UNICEF Club. 
"One thing I know is that I haven't really decided in what field of engineering I'm going into specifically," Prathapam said. "I just know for sure that I'm going somewhere and I'm pretty excited about what I might discover in the future."
Follow Iniya(@iniya_v) and @CHSCampusNews on Twitter.