Class of 2011 to celebrate 10-year reunion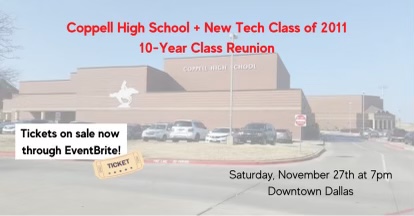 Judy Hong Furth remembers the Coppell High School Class of 2011 as one with a sense of humor. 
"[Senior pranks] were a really big deal back then. And, I think every year there was some crazy thing that happened," Hong Furth said. "The year before us filled the pit with play balls, and people would jump into [the pit]. And that was just one thing that really stands out."
It will be stories like this that will be shared during the reunion for the Coppell High School and New Tech High Class of 2011. The reunion, held on Nov. 27 from 7 to 11 p.m., will be at TNT Tacos and Tequila in Dallas. 
After initial worries about delays due to COVID-19, Hong Furth is looking forward to the event. Hong Furth is one of the reunion coordinators.
"It was always in the plan to do a 10-year reunion and we weren't sure because of the pandemic what that would look like," Hong Furth said. "I always thought that there would be a 10-year reunion. There was a time when the pandemic was so bad that we were like, 'oh, I guess it's not going to happen'. But, with vaccinations we were slowly going towards being able to do [the reunion]."
Hong Furth and fellow event coordinators had a few resources they used to market the event.
"We reached out to [Coppell ISD Superintendent Dr. Brad Hunt] who was our principal at CHS. He's now the superintendent, and he said every year the classes do something different," Hong Furth said. "Up until now, Facebook has been really helpful because a lot of people were on Facebook. And so, there didn't need to be anything else."
However, marketing the event has been a difficult process due to changes in the usage of social media. 
"People have started to not use Facebook as much," Hong Furth said. "We just didn't want to leave anybody out by accident."
Currently, there is a Facebook group for the purpose of connecting the Class of 2011. Event coordinators have also created an Eventbrite page, so attendees can look at information and purchase tickets. Ticket prices are $80, and the event is for ages 21 and over. 
Despite the difficulties of the current year, seeing old friends and acquaintances excites Hong Furth. 
"It's been 10 years which is just crazy because I feel like a child," Hong Furth said.  "I feel like most of the people attending are either my friends or acquaintances that I knew pretty well in high school, so I'm excited. We're probably going to spend the entire night reminiscing and talking about high school and all the crazy things that happened."
Follow Anushree De (@anushree_night) and @CHSCampusNews/@SidekickSports on Twitter.