Dutton graduating to retirement after 30 years
Beginning his teaching career at Coppell High School in 1991 after teaching at Mansfield Middle School for two years, International Baccalaureate History of the Americas teacher Kyle Dutton has taught for three decades in the same building.
 For Dutton, his 30th year is the ideal time to retire. 
"It's a round number," Dutton said. "You get to a time when you realize it's time. There's a point in your life [when] you play with toys, and then you [don't]. [When you] pursue something, and then you don't. When you realize it's time [to retire]."
Dutton has planned on retiring for two years, and feels this year is right for him.
"We like to joke about it in our home, instead [of saying retirement we say], I'm going to graduate to retirement," Dutton said. "I just accidentally said it that way. My wife said, 'That's what we'll call it from now on." 
CHS was authorized as an IB world school in December 2008. IB classes started being taught on campus in August 2009. Dutton has been involved in every CHS IB graduation class.  
"When the IB program started [at CHS], he and I started the history course," IB diploma programme coordinator Michael Brock said. "I remember a lot about planning what we were going to do to make it a different learning experience. Of course, I'll remember probably what his students will remember most and that is his fondness for holidays."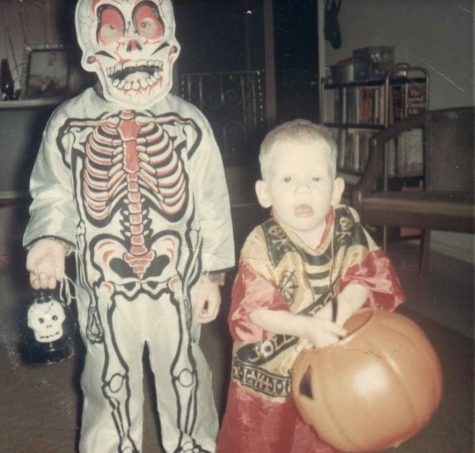 Dutton is known throughout CHS to have specific holiday-themed playlists. He also recognizes  holidays by decorating his room, especially for Halloween. 
"His music is the first thing I think of when I think of him," CHS Principal Laura Springer said. "I love all of the different songs he has for Halloween, Thanksgiving and for Christmas. I love his love of music, because I love music, too. [It] speaks to my soul." 
In preparation for Halloween, Dutton covers his walls in black butcher paper that is more than 20 years old. Following the butcher paper he adds drawings from former students. This school year will be his last year covering his walls before his decorations go into storage and remain there as the seasons turn. 
While Dutton has made plans for retirement, he acknowledges that he has not perfected the art of teaching history. Still, he has left resources and wisdom for his future replacement.
"We all learn things in hindsight," Dutton said. "I mean, that's the irony of it, I've finally figured out a whole bunch of things just at the very end [of my teaching career]."
Dutton ends his time at CHS leaving a mark on the students he taught and the staff he worked with. 
"He's a good teacher, [a] good man [and] watching him grow and become a better teacher was a pleasure," Springer said. "Knowing he's getting ready to retire is very sad for me. This will be his last year with us and I just wish him the best. He's done so much for CHS and [together we have] done a great job of taking care of kids along the route." 
Follow Anette (@AnetteVarghese) and @CHSCampusNews on Twitter.