Cowgirls seek to break losing streak against Plano East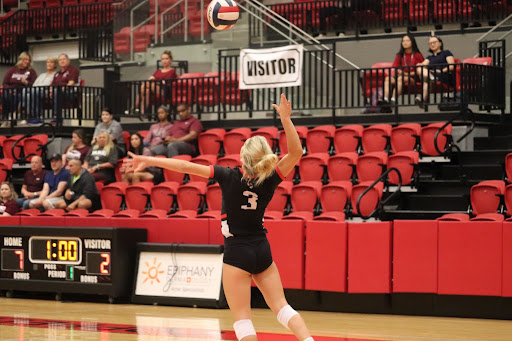 The Coppell volleyball team has lost three consecutive matches against Plano West, Flower Mound and Marcus. With a new strategy, the Cowgirls host Plano East tonight at the Coppell High School Arena, with play beginning at 6:30 p.m.
Coppell senior defensive specialist Meagan Lee described these recent losses as the result of relaxing too much towards the end of the match.
"I think we've struggled a lot this year with closing out games,' Lee said. "Little things like talking on the court and being energetic are definitely things we need to work on. We are relaxing a little too much and making mistakes when we don't need to." 
Particularly when late in the match, the Cowgirls tend to ease off the pressure, leading to an inability to close the deal. Lee has noted that the team needs to work on communication during play. 
These things stand out to her as the biggest challenges her team will face internally and that need to be corrected if they hope to win. 
In regard to her opponents, Lee anticipates that the Cowgirls front row will need to be prepared for a different blocking game coming into the match. Match tapes of Plano East revealed a unique and striking difference to the Cowgirls.
"They have a lot of bigger girls on their team." Lee said. "Our front row needs to prepare and understand more about the difference in timing when they jump." 
According to Lee, in the team's previous matches with shorter players the Cowgirls have demonstrated great blocking games, but need to modify their defensive play for Plano East, which has taller players. 
"We had a really good blocking game against Plano Senior," Lee said. "But their girls were a lot shorter than we are so for Plano East, we need to work on that timing."
This is part of a broader need for improvement in the team's ability to adjust strategies on the fly during games, something Lee thinks is incredibly important when competing with the varying play styles in the district.
Follow Nathan (@WalterBotell) and @SidekickSports on Twitter.