Coppell faces area's second ranked offense in pivotal District 6-6A clash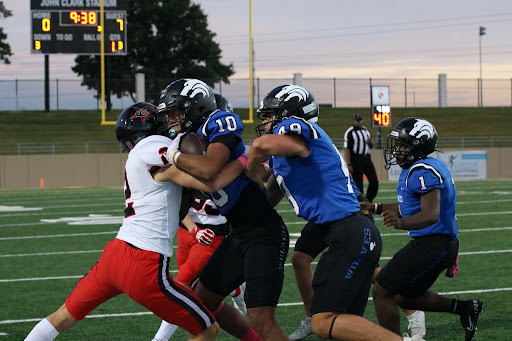 If you Google the definition of pivotal, you would get that it means "of crucial importance in relation to the development or success of something else."
That definition is a summation of everything tomorrow's District 6-6A clash against Marcus at Marauder Stadium in Flower Mound with kickoff at 7 p.m. is billed to be. 
For the Cowboys (3-2, 2-0 in District 6-6A), tomorrow's game provides an opportunity to win three straight games and take a major toward the playoffs. For the Marauders (3-2, 1-1), tomorrow's game provides a chance to remain in the race for the district championship.
"We feel good, we've had a good week practice and everyone knows that Marcus is a good football team but our focus is on us, trying to get better this week and prepare the best we can so we can go out and play our best game on [tomorrow]," Coppell coach Michael DeWitt said.
This game features Marcus's area-ranked passing offense taking on a Coppell defense coming off a near perfect game.
Despite losing four-star quarterback Garret Nussmeier and four-star wide receiver J. Michael Sturdivant last year, Marcus's passing offense is still highly productive and has produced 1,575 yards passing through five games, with an average of 315 yards per game.
Marcus senior quarterback Jaxxon Warren has passed for 1,194 yards and 12 touchdowns, while five Marauders have caught at least two touchdown passes. Marcus senior wide receiver Dallas Dudley has been the top target for Warren, accounting for 632 yards receiving on 38 receptions and two touchdowns, while junior wide receiver Ashton Cozart, a four-star prospect, has chipped in 320 yards on 21 receptions and five touchdowns. Junior wide receiver Isaac Khattab has added 306 yards on 20 receptions and four touchdowns.
"Marcus has some very good pieces on the offensive end and we have to key in on those guys and force them to more of its weakness," Coppell senior safety Isaiah Nichols said. "It's going to be a good game; we have the keys to beat them." 
Marcus' rushing offense hasn't posed a threat compared to its passing offense, so pushing the Marauders to run the ball more will be crucial for the Cowboys.
The Cowboys are confident in their abilities to go away from home and play a hard fought game against the Marauders. 
The Cowboys' hammer package has been the real show-stopper through the first two games of district play, accounting for seven touchdowns. 
The Cowboys' primary target, senior wide receiver Dylan Nelson, has seen coverage in the two district games. 
Attention being placed on him has opened up space in the backfield, space that junior wide receiver Carter Kincaid has taken advantage of and has led all Coppell's receivers through the first two games of district play.
"The reason we are getting everything else going is because everyone is keen on [Nelson]," Coppell offensive coordinator Jay Jones said. "Carter has been big for us, he's a bigger target and he's a good blocker so he helps everything and it helps to have another playmaker on the field." 
Tomorrow's game marks the start of an important three-game stretch of district play, where the Cowboys play Marcus, currently undefeated Hebron and state-ranked Lewisville.
"When you get to this part of the season, there are no more firsts; no more first home games, no more first games, no more homecoming and now it's just football so you just have to stay focused on your task every week," Coppell senior quarterback Landry Fee said. "So far, we've had a good mindset of 'last week was last week, this week is what matters and we're going to go out this week'."
Follow Meer (@mahfuz_meer) and @SidekickSports on Twitter.