Staying at home for your summer job
As students start adjusting to their busy schedules, many who took up summer jobs are finding ways to keep working while they go to school.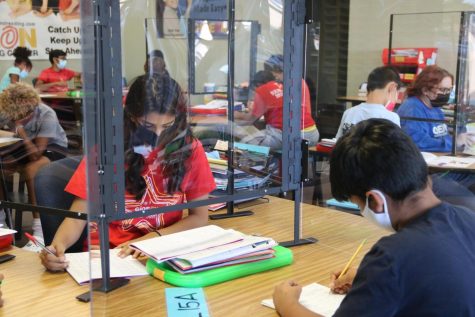 While some teens take up jobs in retail, fast food and learning centers, many have recently started to go a different route, such as working as virtual tutors or selling goods online. 
Students often look to learning centers to take up jobs as tutors for math and English. One such learning center is Gideon Math and Reading on S. Denton Tap Road, a common destination for many students looking for jobs.
"[The tutors] have to be responsible and engaging," Gideon Math and Reading owner Wendy Coppedge said. "I tell everybody to leave [their] problems at the door."
As college applications roll around for seniors, more teenagers have started to apply to be tutors at Gideon and other learning centers such as Kumon and Mathnasium to enhance their applications while earning extra cash. Coppedge describes the center as having more teen tutors recently.
Coppell High School junior Mytri Nair and senior Kamalesh Mohanasundar are both tutors at Gideon. Nair, who has been working at Gideon since June, describes an increase in the number of teenagers currently working, and though many of them have started to move towards online jobs, she personally prefers working in person.
"I was a Zoom tutor for six months to a year," Nair said. "Compared to working with children online, there's more of a bond when you're in person." 
Traditional jobs offer valuable soft skills, support, work experience and a bond among people.
"In person, you have a boss and a manager who can help you out directly," Mohanasundar said. "The main difference is the [support] you have. You have more support when you are in-person."
Teenagers haven't abandoned these more traditional jobs, and many prefer the benefits of these jobs; however, online work has become increasingly popular.
As a result of teens being mostly unable to work in person for months, more students have started to look into online jobs, prompting them to pick jobs that best match their interests.
"These days, I don't see a lot of [teens] going into retail jobs," said senior Geeth Gunnampalli, who works as a teaching and tech assistant for Kumon and an online web developer for his father's company Rad Soft, Inc. "I feel like [working] online is what people are doing the most, and it is becoming more popular."
Students have started to look for certain things in a job that many traditional summer jobs don't offer these days, whether it is for specific experiences or convenience.
"As a high school student, there aren't many jobs that you can do that you are passionate about [in person]," Mohanasundar said.
Instead of a retail job, a hopeful computer science major such as Gunnampalli might gravitate towards web development and online opportunities to explore their passions and gain experience for their future.
"My online job perfectly fits what I want to do based on my major," Gunnampalli said. "I would say the online job is helping my in person job by giving me the skills needed for my job at Kumon."
Follow Yaamini (@yjois12) and @CHSCampusNews on Twitter.