Running away, then towards the finish line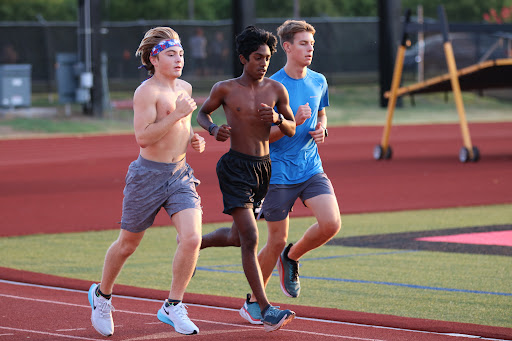 If you were Coppell High School junior Andrew Mullen's alarm clock in 2019, you might have been yelled at and thrown on the floor at the break of dawn on a Saturday morning. 
But if you were his alarm clock today, you would be proudly sitting on the nightstand, waiting for his greeting.
Mullen has been in cross country since the seventh grade. When he first joined the program, he was demotivated and unsure of the value he could offer to the program. 
"In middle school, I don't think that [Mullen] really had any idea he could be this competitive of a runner," Mullen's father Marty Mullen said. "In seventh grade he did good. And then, in eighth grade, he did a little better, and I don't think it was really until ninth grade that it dawned on him and everyone that he had talent and could be top runner for Coppell."
It wasn't until two years later that Mullen found himself on the field.
"I like competing with other people and showing my talent off," Mullen said. "I didn't really fall in love with cross country until the first meet of freshman year. I won on the JV side, and after that I've just loved cross country since."
Transitioning from Coppell Middle School North to high school athletics caused a change in purpose for Andrew. While he used to view cross country as a fun pastime, he now views it as an opportunity for the future. 
"It's a lot more competitive, and there's a lot that goes into it like colleges," Mullen said. "Middle school [was] just for fun, and high school is more about competing. It's still fun, but there's a different aspect to it."
However, Andrew was able to quickly adapt and thrive in this competitive environment.
"When you come into this program as a freshman, you don't really understand how much time and effort you have to put in to be good or to be one of the best," Mr. Mullen said. "A lot of freshmen have to wake up at 6 a.m. during the summer, or have to be at the school at 4:30 a.m. on a Saturday, so there's a lot of sacrifice, a lot of commitment that goes into being an elite runner. Andrew does it all on his own. He's waking up early, getting out there on a Saturday morning. He's just matured in that way that he's just more responsible."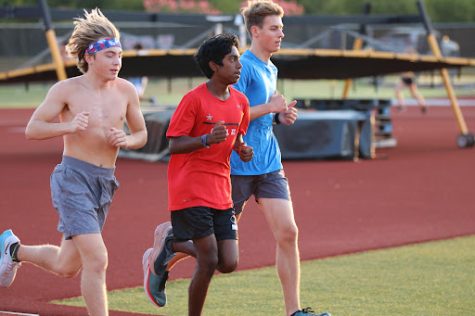 Though Andrew is a seasoned runner for the Coppell track team in the 1600m and 3200m events, he still faces challenges that extend more than physical training and early morning practices could offer. 
"It is a lot harder both physically and mentally, because you still have to be in the race, even when it gets hard, because you have to be there for your team," Andrew said. "A lot of people just think 'oh, it's running', but if you don't have that certain mentality, then you could be the fastest person in the world but you won't be able to compete at a high level." 
According to Coppell High School junior Vedant Bhattacharya, Andrew has shown significant growth in all areas from middle school to high school.  
"[Mullen] has definitely become a much more mature athlete and individual," said Bhattacharaya, a cross country and track teammate since seventh grade. "When he was in seventh grade he wasn't much of a standout athlete, but he dominates races now, and he's our number one for cross country so he's definitely grown a lot, mentally and physically, which was really nice to see."
Andrew hopes to keep pursuing cross country after high school, his dream schools being the University of California-Berkeley, UCLA and the University of Oregon. But no matter the end result, Andrew's perseverance gains him many victories.
"[Mullen's] best quality is definitely his mentality," Bhattacharya said. "He is a person that would really never give up. And if he loses, he'll make sure that they are in pain. He's not going to make it easy for anyone, that's something that is very unique."
With all his present and future success, Andrew hopes to serve as a role model for incoming athletes and prove that persistence will pay off. 
"I just want people to look up to me and say, 'I want to be that person,'" Andrew said. "I just want to give them good advice about running since I know what you need to do. I know it's gonna be hard at first, but in the end it will pay off."
Follow Sreeja @sreejamudumby and @CHSCampusNews on Twitter.
About the Contributors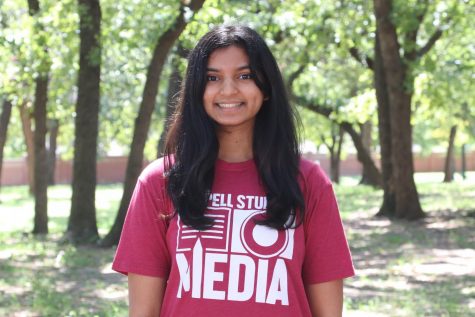 Sreeja Mudumby, Executive Editorial Page Editor
Sreeja Mudumby is a senior and the executive editorial page editor for the Sidekick. This is Sreeja is primarily a writer, and this is her third year on...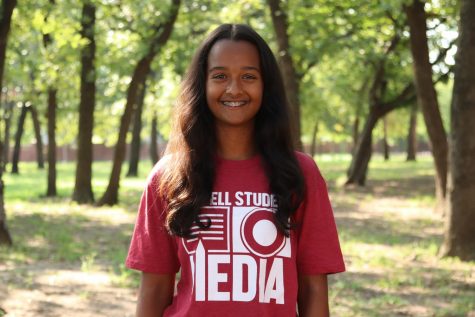 Nandini Muresh, Photo Editor
Nandini is a junior and the photo editor for The Sidekick. She is in the Coppell Color Guard, and outside of school she enjoys doing Taekwondo, dance,...