Masks, virtual learning dominate open forum at board meeting (WITH VIDEO)
Monday's Coppell ISD Board of Trustees meeting drew a great deal of community interest as around 50 CISD residents attended to present their opinions on masking in schools and virtual learning in the open forum. Around 50 people spoke or submitted comments for the open forum, forcing the board to limit presentations to two minutes from three.
Ninety minutes, as opposed to the usual 30, were spent on the open forum last night as CISD residents shared personal stories relating to their opinions on masking and virtual learning.
Supporters of both mask requirements and mask choice were both well represented during the open forum. 
The board did not discuss any changes to the district's current optional mask policy on Monday. Instead it took the open forum as an opportunity to receive the community's perspectives on these issues as court cases unfold.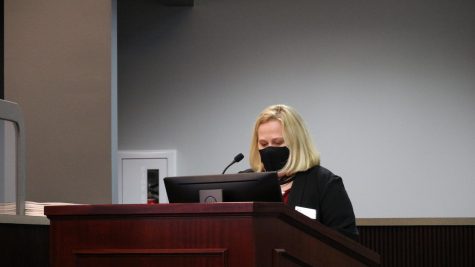 Superintendent Dr. Brad Hunt, in his superintendent's report, discussed last week's in-person reopening of CISD schools and Monday's opening of virtual school for grades pre-K through 6. In response to questions raised about 10-day quarantines due to COVID-19, Dr. Hunt said that while he hoped for a virtual conferencing option for these learners, it is not currently available due to a lack of resources at a state and federal level. Hunt also said there might be concerns regarding teachers having to once again teach both virtual and in-person lessons simultaneously, which was a struggle last year.
The 10-day quarantines are put in place after a student is notified of exposure to COVID-19 via the new contact tracing system, which was inspired by the guidelines of the Centers for Disease Control and Prevention, Texas Education Agency and the Dallas County Health Department. In the new system, which rolls out Tuesday, alerts students to exposures in their general area.
Many CISD parents are responding to the uncertainty of contact tracing and quarantines – during which students may not be able to keep up with classwork and therefore will return to 10 days of makeup work – by electing for the virtual option available to grades pre-K through 6, or calling for one for higher grades. As of Monday, 1,897 students out of 12,917 in CISD have opted for temporary virtual learning.
For in-person students and staff, new COVID-19 protocols are being implemented with the support of the Elementary and Secondary School Emergency Relief funds (ESSER funds). A bid for portable air purifiers for classrooms was approved by the board.
The ESSER funds will also be used for a one-time lump sum payment of $1,000 for CISD employees. The payment, which will be issued in each full-time employee's December pay, will be given to those staff members who were employed in the district prior to the last nine weeks of the 2020-21 school year and remain in this permanent position on November 23. This will also serve as compensation for added work and stress during the last year of the COVID-19 pandemic.
Follow @CHSCampusNews and @anjuvishwanath on Twitter for more.