Theatre Denton's 'Matilda' energetically rejuvenates imagination
DENTON – Minutes before the auditorium of the Campus Theatre opened at 7 p.m. on Saturday, the cast of Theatre Denton's production of "Matilda" learned the show was sold out. Before director Kristen Ray could finish announcing the news, a loud cheer erupted from the group's pre-show circle. 
The energy set the tone for the rest of the night as Roald Dahl's flamboyant characters were brought to life through song and dance. Along with the cast's rehearsed musical numbers and British accents, the auditorium was filled with the audience's laughter, clapping and cheering. 
The musical ran for three weekends this month, with Sunday's matinee being the final performance.
Auditions for "Matilda" were held in May, marking the beginning of Coppell High School debate director Dr. Jason Sykes's involvement with Theatre Denton. After earning the parts of the Russian mafia boss, judge and ensemble member, Dr. Sykes rehearsed with the cast and crew for seven weeks leading up to the show.
"I've found that my circle of friends in my local community has really grown, and it's been a great group of people to work with," Dr. Sykes said. "I've been overwhelmed by how strong the cast is. It's amazing to see 11 and 12-year-olds who are able to memorize half a script and folks who are more experienced fill in multiple roles."
The show follows the eponymous character Matilda Wormwood (Delaney Casaubon), a bright young bookworm who is bullied by her family. Despite their dislike for education, her mother (Caroline Pluscht) and father (Caleb Norris) send her to school with the belief that the infamously strict principal, Miss Trunchbull (Erica Cole) will teach Matilda to be more like her TV-watching brother Michael (Jaxon Hess).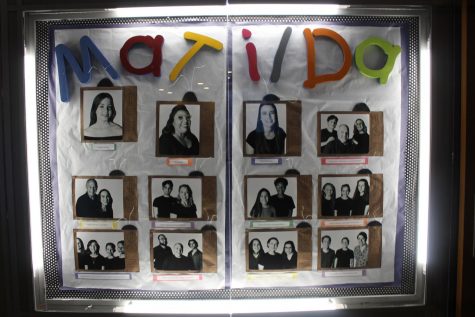 While acknowledging the impact of the original book and following film adaptation, Ray thinks the musical adaptation of "Matilda" adds emotional depth to the story that cannot be found in any other medium.
"There's a lot of heart involved in the story," Ray said. "Music gives us as humans a rhythm to our heart. If you think about music when you're feeling sad, there's a specific song you might listen to that helps you feel better or that makes you cry even more. When you add music to a story with a lot of heart, it deepens that emotional connection even more."
At school, Matilda forms emotional connections with her teacher, Miss Honey (Grace Munteanu), and her classmates, including her best friend Lavender (Jaycee Saucedo). These interactions empower her to stand up for herself instead of waiting for a storybook savior. Throughout the story, Matilda's vivid storytelling captures the audience's fascination as acting, lighting and special effects breathe life into her tales.
"This show is about standing up for what is right," Dr. Sykes said. "The story is really compelling because there's so many characters who take that journey and learn to express their voice throughout the show. That's really consistent with what I've chosen to do as a career. I believe the more information people have and the more learning people are willing to do, the closer we move to a place where people are willing and able to stand up for what they think is right."
Matilda's main obstacles in fighting for justice are her ignorant family members and the towering Miss Trunchbull. Through playing the villain, Cole offers unique insight into the necessity of the character and the lessons her presence embeds into the musical as a whole.
"Miss Trunchbull represents the thing that scares you," Cole said. "The thing that tries to keep you from being yourself. We all have that in our lives, something that scares us. Sometimes, even though we don't know how we're going to do it, we have to learn to stand up to that."
Follow Trisha (@trish_atluri) and @CHSCampusNews on Twitter.