Wren brings high caliber experience to Coppell track, cross country
Being a head cross country and track and field coach. It had been his goal for years.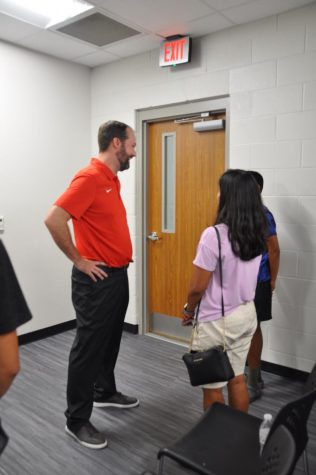 Little did he know that opportunity would come in July.
With Nick Benton's resignation in early July to pursue a career in aviation, Landon Wren left his alma mater, Decatur High School, to replace Benton as the Coppell head cross country and girls track coach. It was a tough decision, but ultimately the best for his career.
"For somebody of Coach Wren's quality to be available in the middle of July is almost a godsend for us," Coppell ISD Athletics Director Kit Pehl said. "It's very unusual for somebody of such a high caliber to be available so late in the summer."
After growing up surrounded by the sport of track and with a love of running, a goal of Wren's has been to become a head cross country and track and field coach.
"My love for coaching running comes from my childhood," Wren said. "Growing up my dad and I would go to state track meets every year and it was always my favorite sport to watch in the Olympics. There's something that's really appealing about training for years and competing in as little as 9 or 10 seconds. As far as cross country, it's something that's really started to interest me. The more I've learned about the sport the more interested I've become. There's so much strategy involved and the kids are wonderful and dedicated." 
On top of his love for running, Wren comes to Coppell with a wide range of skills. 
Before graduating Decatur in 1997 Wren played football, basketball, baseball and ran track and field. Since graduating Trinity University in 2002, Wren has coached at both Lewisville and Decatur high schools for football, basketball, track and cross country. Over the past year, he has worked as assistant cross country coach under David Park, who led Decatur's cross country team to eight of the program's ten state championships, as well as working side-by-side Park as track and field coaches.
"We were very fortunate. Wren is a very strong track and field/cross country coach," Pehl said. "With Wren bringing his experiences to our team approach is why we have a chance to be stronger, especially on the cross country side. The structure that Benton left is so strong and something that is still at our fingertips. Wren has his version of a very similar program to complement that and take it a step further, with both cross country and track."
Wren was appointed to his new coaching job last Tuesday. After a quick meet and greet with his athletes, Wren went off to the track. He knows that picking up in the middle of training season will not be an easy feat. But with a large support system of preexisting Coppell coaches and a sound friendship with Benton, Wren is ready to get the season started.
"This year we're going to continue with the training program that's in place," Wren said. "I know this training program is a little different from what I've done but there are many different ways to succeed. Coach Benton felt this is the best program for CHS and I'd be foolish to start training things this late."
Wren has two main goals coming into Coppell: building model citizens and great athletes.
"I'm trying to make a difference with young people," Wren said. "My goal is that when they leave CHS they're prepared for what the world has to offer. I want them to be great husbands, fathers, mothers and wives. From a team standpoint, the ultimate goal is to get your teams to state and win it. I'm going to do my best to learn the system and coach these kids. As a new coach it's my job to do my best to push the kids."
Follow Torie (@torielpeck) and @SidekickSports on Twitter.