Don't look away from the arms of a moment
Miss CHS leaves legacy in realm of obscurity
Coppell High School 2021 graduate and former Sidekick Editor-in-Chief Sally Parampottil's unexpected schedule change into The Sidekick is the prime example of a happy accident. 
Changing her schedule to be put in the very program that became her life for the next three years, Parampottil ended her time at CHS as the most decorated Sidekick staffer of all time. 
When I ask her how all of her accomplishments are even humanly possible, her expression remains rested and she speaks with neutrality. Her biggest successes include placing first in the nation for NSPA's Best of Show Editorial Leadership, joining The Sidekick leadership team as co-student life editor in her sophomore year, leading as executive sports editor as a junior and being the executive editor-in-chief of The Sidekick her senior year. 
Outside of The Sidekick, Parampottil also ranked in the top 10 percent, and was named 2021 Miss CHS.  
"I am a bit of a perfectionist in the sense that I don't want to do anything wrong," Parampottil says. "It's heightened for Sidekick because I know that what I do affects other people. It's balancing priorities. It's figuring out what actually matters and when it comes to doing things that affect other people, I put value on that."
As she speaks, she maintains strong eye contact with me during the interview and with the Palio's Pizza waiter as she orders her lunch. 
"I remember my first impression of how attentive [Parampottil] was," The Sidekick adviser Chase Wofford said. "When I was standing in front of the class, she was always making eye contact, listening to every single word I was saying. I immediately noticed how engaged she was, whether it was me talking or one of the other editors, and I took that as she was eager to learn; she was eager to pick up what she can from her adviser, her editors or her peers." 
Her delivery, when it comes to sharing her voice, is assertive, but not aggressive. She was insistent during Sidekick editor meetings when she held the staff accountable for missing deadlines. But she was never mean; she earned the feeling of never wanting to be let down. 
"[Parampottil] had the respect of every person every year she's been on staff," Wofford said. "That's such an important part of being a leader. You've got to be the best person and [Parampottil] is second to none as far as her work ethic [and] care for people; she's got the whole package."
Parampottil acknowledges being named Miss CHS is extremely honorable, and jokes that her father and 1987 CHS graduate Isaac Parampottil said he would trade his work patents if he meant he could win Mr. CHS.
"I couldn't believe I got it, but I did, and it was one of the funniest things that happened to me this school year," said Sally, with a chuckle. "I laughed on my way up, and I laughed when I had it, and I laughed on my way back and I was like, 'oh my gosh, I cannot believe it actually happened.' It is a big honor, there were 886 of us, and to be Miss CHS is crazy."
Mr. Parampottil was also sports editor of The Crimson Spirit, the CHS student newspaper prior to The Sidekick. However, Sally's interest in sports writing blossomed before she found this out, and throughout her childhood, became involved in sports with her own interest.
"I grew up with sports, but not in sports," Sally says. "I [played] golf for three years and dance for [about] six years, but I wasn't part of a team. My interaction with sports mainly came from my dad, so he really got me interested in sports." 
My eyes shift down from her firm gaze to her warm smile. Sally grins as widely as she showed me her free drink she got from Jimmy Johns prior to meeting me. Her smile is contagious. Watching her, I remember how The Sidekick staff worked hard for Sally's smile, and sulked when seeing a frown on her face. 
"The way she inspires respect in her, she makes you want to do right by her all the time," said CHS rising senior Anjali Krishna, who is 2021-22 Sidekick executive editor-in-chief. "If you mess up, you aren't upset at her for being upset with you. You feel bad that you let her down. It's her own dedication, and she's put faith in you, and you want to uphold that faith."
"
I know what I want to do is to become an American history professor. From here on out I think I melt into the realm of obscurity; I become an average person and I am fine with that."
— Former Sidekick Executive Editor in Chief and CHS alumni Sally Parampottil
It seemed Sally might not want to leave The Sidekick, as she accomplished so many things and established a name for herself in this program. But, pointing out her own eye bags, she sighs heavily. When she mentions that her eyebags touch the apples of her cheeks, I cannot help but notice the dark crescent moons that rest under her eyes. 
"I am tired," Sally says. "I am ready to take a break. I am ready to move on from Sidekick because I have done so much. There are some things that I wish I had done on The Sidekick, but when it comes down to it, I don't think another year would be productive for me. I would try to push my limits even more, but this would be the year I really got to do a wider range of things."
Sally will pursue a liberal arts degree at the University of Texas at Austin. But, she tenses up a bit as she tells me she might have reached her full potential in high school. 
"There's also the fear that I peaked in high school," Sally says. "It's easier in a smaller high school publication, but when I go to college it's going to be a lot bigger, and the workforce is going to be a lot bigger. How do I top what I have done already? I don't think I can. Because I know what I want to do is to become an American history professor. From here on out I think I melt into the realm of obscurity; I become an average person and I am fine with that." 
She references a Green Day song called "The Forgotten" about people who live and die in an average life. Though Sally doesn't have a consistent music taste, she listened to Green Day at night when designing pages for The Sidekick. She stops talking and starts singing, and when I pause to take note of this she laughs and tells me to add it in the story. 
"All of us aren't going to end up in history textbooks, so the most we can do is make the best with what we have when we have the opportunities, and I don't know what my opportunities will be," Sally says. "So if I peak in high school, at least it's a good peak."
Follow Sreeja @sreejamudumby and @CHSCampusNews on Twitter. 
About the Contributors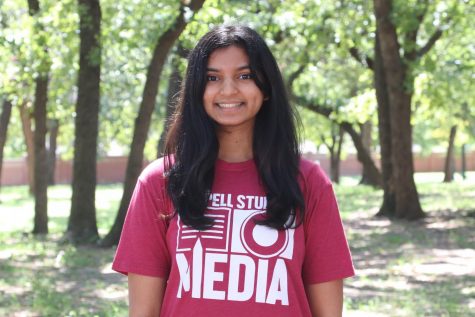 Sreeja Mudumby, Executive Editorial Page Editor
Sreeja Mudumby is a senior and the executive editorial page editor for the Sidekick. This is Sreeja is primarily a writer, and this is her third year on...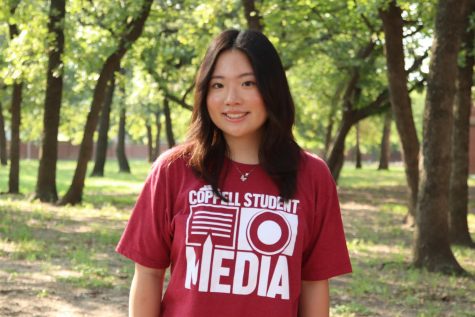 Angelina Liu, Visual Media Editor
Angelina is a junior and the visual media editor for The Sidekick. In her free time, she likes to listen to music, spend time with friends and thrift....