Shortstop sets sight on tall dreams
Captain /kap-tuhn, -tin/ noun / a person who is at the head of or in authority over others; chief; leader. 
When fielding, he stands between second and third base. When batting, he walks up to "Sum 2 Prove" by Lil Baby. Coppell sophomore shortstop TJ Pompey – not at all short at 6 feet 3 inches – is the captain of the infield. 
"He's our leadoff hitter, he's our shortstop – he plays two very important roles for us," Coppell coach Ryan Howard said. "He's a sophomore, but a lot of guys look to him to get us going. He's our igniter. As a leadoff hitter, he's a high energy guy that can make a lot of things happen on a baseball field." 
Pompey's relative youth as one of four sophomores on a senior-heavy team has not prevented his success on the field. Despite his debut district season being canceled prior due to COVID-19, Pompey received a scholarship offer from Texas Tech and verbally committed in December, before his first full high school season had even begun. 
"I was doing really well in the summer, and coaches started seeing me," Pompey said. "What got me into Tech was the coaching staff. The coaching staff was a big part I was looking for, and what they have is just, they really coach you players-wise and once you become the best player you can be, you just become a better man." 
While Drake, lemon pepper wings from Wingstop and the New York Yankees (mainly due to his admiration of retired shortstop Derek Jeter) make up his current likes, Pompey's love for baseball has built his envisioned future. His goal is to be drafted out of high school, and if that does not happen, he plans on earning a degree while continuing to pursue a career as a professional player.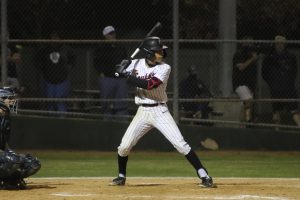 "Right now, my life is just playing baseball," Pompey said. "That's what I want to do for the rest of my life." 
The major league has been Pompey's dream since he was a child. 
"I had a bat in my hand when I was little; my dad said I was swinging all the time, so he knew I was going to be an athlete one day," Pompey said. "Baseball, I fell in love with it when I was 4, that's how I got started."
Playing on club teams such as Canes and the Cooperstown Cobras, the latter of which placed third in the World Series in New Mexico when he was 14, Pompey had experience coming into high school, which landed him on the varsity team as a freshman. 
"He's well beyond his years athletically," Howard said. "He plays like an 18-year-old kid. His physical attributes, how fast he is, his ability to hit, his ability to play defense is on a varsity level caliber. More importantly, he's played a lot of competitive ball up until this point, and he's mature beyond his years, which allows him to compete at this level because it's not easy as a young guy."
Coppell sophomore second baseman Tanner Sever also made varsity as a freshman. Being one of Pompey's best friends, he describes the moment they found out as the most memorable they have had thus far. 
"That was awesome for both of us because we both wanted to be on varsity as freshmen, and after coming out of that meeting, we were super excited and we couldn't wait for the season to start," Sever said. "That didn't really get to happen, but we were excited that we got to be on varsity and play with each other."
With two more years left of high school, Sever hopes to see him and Pompey make all-district and all-state, as well as being known as the best middle infield duo in the state and nation. In the years after, Pompey's goals extend to the professional world of baseball. 
"The sky is the limit for him," Howard said. "His talent is going to allow him to play as long as the drive is there for him. His talent is off the charts, his attitude is off the charts, I know he loves the game, and with his work ethic matched up with his talent, there's no ceiling for what [Pompey] can do. We can definitely see him playing on TV one day."
Follow Sally (@SParampottil) and @SidekickSports on Twitter.