Shakesby retires as hockey overcomes vengeful Spartans to win state championship in sensational double OT comeback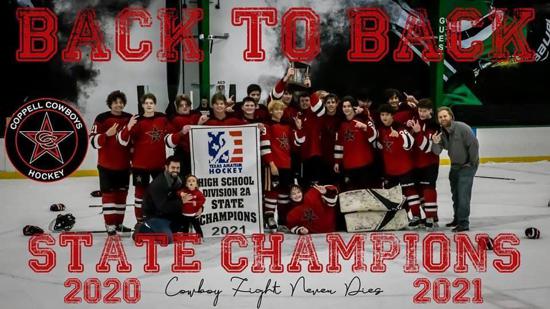 As time grew on in the second period of the Division 2A State Championship, Coppell's deficit grew synchronously.  In a rematch of the 2020 Division 2A State Championship against Denton County, a Coppell victory, the Spartans' hunger sent them flying into this game and at the Cowboys. 
Led by senior forward and captain Trevor Moore, the back-to-back Offensive Player of the Year with three total goals, two assists and the eventual game-winner in a gritty, physical and aggressive matchup, Coppell defeated Denton County, 6-5, in double overtime to secure back-to-back Division 2A State Championships in coach Chris Shakesby's final game with the Cowboys.  
After falling into a three goal deficit in the first quarter, Coppell fought to get back into the game with a goal from Moore at 11:51 in the second period but the Spartans' offensive onslaught saw them to replenish the three goal advantage over the Cowboys. That, coupled with a misconduct (deliberately throwing equipment) penalty against senior goalie Kyle Reeves forced Shakesby to pull Reeves off the ice and send him to the locker room.
His replacement, senior goalie Barrett Allen, stepped onto the ice and conceded the very next shot from the Spartans, increasing the Cowboys deficit to four goals. 
To make matters worse, a scrum late into the second period injured Allen's knee, ultimately sending him to the ER, and Reeves, who had partially changed back into his street clothes, was forced to get re-dressed into goalie gear to come back out on the ice. 
"
After falling into the 5-1 hole and losing our goalie to injury, it was just one of those 'we have nothing to lose, let's just go out there and see what we can do and see if we can make a comeback'"
— Coppell coach Chris Shakesby
While Reeves was getting re-dressed, the Cowboys were forced to play with six skaters and no goalie for two minutes but, in a show of sportsmanship, the Spartans did not try to score during this period. And during this crucial two minute period of passive play however, the Cowboys were able to reclaim themselves mentally and formulated what Shakesby calls one of the greatest comebacks in high school hockey history. 
Moore grabbed another goal with 1:13 left in the second period and assisted two goals early in the third (at 13 minutes and 11:45, respectively) to cut the Cowboys deficit to just one with nearly 12 minutes left to play. The next 12 minutes would be the most crucial stretch of time for the Cowboys as they fought for a tying goal. With under a minute left, still trailing by one, the Cowboys pulled Reeves off again and played with no goalie to score a goal.
"That final one is always the hardest to get because playing with a lead is one thing but it's always a lot tougher with a one goal [deficit] because everyone buckles down so if we didn't get those two goals early in the third, we would not be able to make the comeback," Shakesby said.
With four seconds left in the game, senior forward Austin Thurman collected the puck and sent it over to sophomore defenseman Dylan Luu, who unleashed a shot from the blue line through traffic and into the back of the Spartan's net, tying the game at 5-5 and forcing overtime. 
"
Right then in the moment you're celebrating because you scored and you're going to overtime, but it took me a day or two to finally realize 'oh crap, we actually did that'"
— Coppell coach Chris Shakesby
The first overtime period was less intense and thrilling compared to the last 10 minutes preceding it, with exhaustion playing a major role in that, as neither team was seemingly able to crack the other open. A roughing penalty for the Cowboys was canceled out by a "too many men on the rink" penalty for the Spartans, bringing the anti-climatic first OT period to a close.
"I literally sat there and said 'hey guys, I'm beyond proud of what you guys did; I mean you came back from being 5-1 down and I don't care what happens from here on out, you guys won in my eyes because you didn't give up and kept fighting' and one of the guys responded with 'coach, with all due respect, we got this' and the rest is history," Shakesby said. 
The second overtime period was similar to that of the first – both teams trying to take their time and set up an attack so that the perfect shot could be had  – but on a fast break with 31 seconds left, senior Jacob Smith drove the puck wide into offensive territory and found Moore on a backhanded pass near the back post. Moore received the puck and slammed it into the goal, completing his hat trick and more importantly, winning the championship for the Cowboys. 
The crowd erupted in cheer as Moore raced to the center of the rink, sliding the last 15 feet on his knees with his arms raised high as the rest of the Cowboys joined in celebration. Hockey sticks and gloves went flying and Moore could not be seen as he was buried underneath a dogpile of Coppell players. 
"
[Getting the game winner] was amazing, it's truly a hard feeling to describe,"
— Coppell captain and senior forward Trevor Moore
"Everyone kept telling me that I deserved that goal and that it should've been me but it was a team play and anyone could have scored that goal but the fact that I scored it felt like the perfect cap on my senior season; it was a good way to go out," Moore said.  
This championship marked Shakesby's last game as a hockey coach as he ended his career on a high note, winning back-to-back state championships. 
"I'm officially done; what a way to end my career," Shakesby said. "It's [one week] later and I'm still pretty speechless, this might be the craziest and best game I've ever been part of. I'll remember this for a long time. It's one of those things where I guarantee you some of my players, being down 5-1, were like 'well, that sucks' and just battling back and winning this game makes it that much more enjoyable and that much better. When we won last year, we were leading the entire match and it's not as exciting but in this one, you're on your toes the entire match, you're nervous the entire match, you don't know what's going to happen next and once we scored the game-winner, everyone erupted with joy and it doesn't get much better than that especially with an overtime win."   
Follow Meer (@meer_mahfuz) and @SidekickSports on Twitter.