Eco-friendly event celebrates Earth Day with pride
On Saturday morning, the buzz of chatter and activity replaced the usual tranquility of the Coppell Nature Park as vendors set up their tents for EarthFest. 
From 11 a.m. to 1 p.m., local organizations assembled near the Biodiversity Education Center (BEC) to teach Coppell about being environmentally conscious. Clubs from across Coppell ISD were in attendance, including Lee Elementary School, the Coppell Middle School East Sustainability Club, the Coppell High School Environmental Action Club and the CHS Eco Club. 
"This is the one Earth we have, so we need to leave the world a better place than how we found it," CHS Eco Club sponsor Sorelle Kimball said. "[The BEC] focuses on sustainability and working with the environment. [The CHS Eco Club] is similar because we are also encouraging people to make conscious choices about how to live with [the] Earth rather than take from it."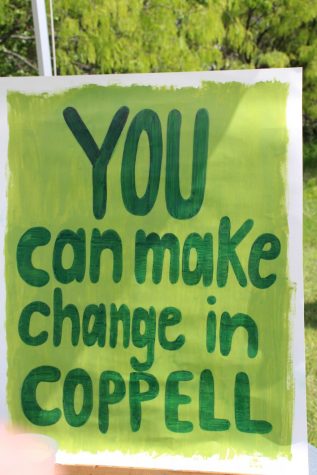 Several groups, including Keep Coppell Beautiful Teens and Lee Elementary, gave away saplings for free, allowing visitors to take home greenery for their garden. The CMS East Sustainability Club offered sunflower plants for a donation of any amount as part of a pollinator project. Donations from this exchange will be given to the global nonprofit Water is Basic.
"We're trying to promote environments for pollinators in our community, so we're selling sunflowers to attract them," CMS East Sustainability Club officer Lynlee Graves said. "We want [pollinators] to have safe places in Coppell, and it's also great for the environment to have them around here."
Trails leading deeper into the park contained scattered stations throughout, each set up to educate attendees about the surrounding ecosystems. At station 3, children picked up a net and ran around a field to catch insects which Biodiversity Education Center volunteer Katelyn Miller would then examine. 
Above all, EarthFest is a family-friendly space for the Coppell community to learn about municipal and personal efforts to be sustainable. With several coloring stations, an eco-friendly playground and the opportunity to design green crowns and take free recycled keepsakes, the event invites children to explore the idea of being green.
"It's great to see an intergenerational space where people care about the environment," Coppell community programs coordinator Marissa Olivas said. "From very little kids who are growing sprouts in their classroom to adults who volunteer 40 hours a week and do that as their main occupation, everyone's here because they care about our local ecosystems."
Follow Trisha (@trishatluri) and @CHSCampusNews on Twitter.