Unnamed but untamed: Munagapati developing, pursuing video games
It is a typical Tuesday morning when Coppell High School senior Vinay Munagapati settles in for yet another round of his guilty pleasure: Five Nights at Freddy's. Familiar with the game, he expects to get through a breezy level.
Suddenly, he feels a chill up his spine. He looks at his arms and sees hairs standing up: goosebumps. Ominous music floats through his ears as a droplet of sweat drips down his forehead.
But out of all this, comes an epiphany. 
Munagapti had many career dreams as a child, such as the typical astronaut to the not-so-typical agricultural manager. It wasn't until taking art and coding classes at CHS that he solidified his dream of wanting to be a videogame designer. 
"Since I was taking coding classes during freshman year, I thought it was a good way to introduce me to any language that could help me when I'm trying to create the video games such as HTML, C# and C++," Munagapati said. "The art classes helped me get creative insight and improve my skills with design because when it comes to creating character models and level environment, I could have good rough sketches for what I can create and reference from."
The lure of popular video games led him to create his own version of a horror game. 
"Five Nights at Freddy's was the first game to inspire me," Munagapti said. "I was really scared by the game around middle school, and it had a pretty good fear factor around it because of the models being used, ambience, sound effects; even the jump scares got me. I grew up with that game specifically, so that's why I wanted to make a horror game." 
Munagapati's game is currently a work in progress. With more than 15 characters but no title, he hopes his game reaches as many people as possible when finished.
The video game plot consists of a stranger getting sucked into a monster-filled dimension, where he is kidnapped and taken into a mansion. The character has to find all five keys to get out of the mansion while avoiding all the monsters, as they want to kill and eat him.
Along with creating his own game, Munagapati will attend the University of Texas at Dallas to further pursue his passion and make a career out of video game design. 
"I took a tour there once, and I asked a lot of questions about the tech stuff that was happening there," Munagapati said. "Not so long ago, maybe a year ago, [UTD freshman and 2020 CHS graduate Niranjan Akilan] gave me the Discord server to some UTD game development club and class, [and] they had stuff on programming, sound effects, designs and models. It was a really comfortable environment for me to learn video game design."
Munagapati's desire to learn more and use his skills to the fullest is what keeps him going with his creation.   
"He's not afraid to ask questions," Akilan said. "A lot of people when they ask questions, they are worried they'll be judged, but he always asks questions before doing anything, which is a good trait to have."
CHS practicum in information technology teacher Joe Musgrave thinks Munagapati's diverse intellect leads him to be successful. 
"We've got our right and left hemisphere brains, and our [left] side is that logical and organizational side of the brain and our right side is our more creative side," Musgrave said. "When you can find people who not only work on the technical aspects but can also bring in the creativity, it really lends itself to that design component. I've talked to [Munagapati] and observed him in my classes, and this idea of bringing that layer of imagination in the technical programming is what lends itself to why Vinay is pursuing this."
Munagapati continues to work hard on his game every day so that one day, people will be playing his game the way he played Five Nights at Freddy's.
"If you want to make one, I would say go ahead; there shouldn't be anything stopping you," Munagapati said. "You don't always have to do all of the aspects of video game design; you can do one aspect and work with others to finish the rest."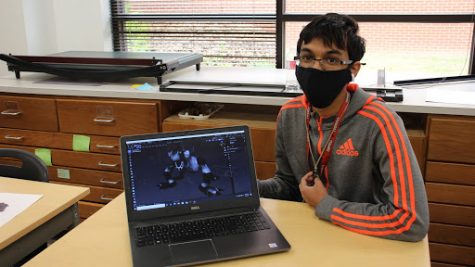 Follow Sreeja (@sreejamudumby) and @CHSCampusNews on Twitter
About the Contributors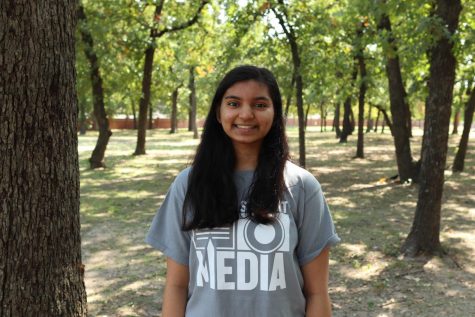 Sreeja Mudumby, Communications Manager
Sreeja Mudumby is a junior and the communications manager for the Sidekick. This is Sreeja's second year on the Sidekick staff. Apart from Sidekick and...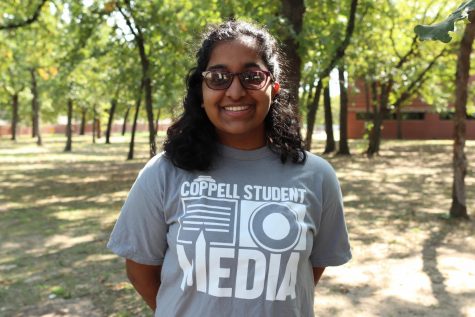 Trisha Atluri, Advertising/Circulation Manager
Trisha is a junior at Coppell High School and the advertising/circulation manager for The Sidekick. She enjoys playing ukulele and discovering new music...