Baseball takes first home win of district play
The ballpark filled with fans as a sea of black and white jerseys enveloped the field. The sounds of cheering fans and clattering plastic water bottles filled with sunflower seeds filled the stands. 
With the game tied in the bottom of the fourth and the Coppell baseball team at bat, everyone held their breath.
With a pitch count of 2-2, Coppell senior first baseman David Jeon sent a pitch bouncing towards left field before rounding the bases to take second base. That was all Coppell junior third baseman Walker Polk needed to push for Coppell's first lead of the night.
The Cowboys defeated Marcus, 5-2, in a tight game Tuesday night at the Coppell ISD Baseball/Softball Complex, marking the teams first home win in district play.
"It was a good team win with everyone chipping in," Howard said. "The team that has the most competitive at bats and pitcher on the mound is going to be the team to be able to keep focused and win."
In the first inning, runs were earned by Marcus senior pinch batter Ty Johnson and Coppell junior left fielder Andrew Nester, tying the score at 1-1.The score held until the bottom of the fourth.
"We came in hot with a lot of energy," Jeon said. "Coach [Howard] preached about jumping on [their pitcher] and that's what we did."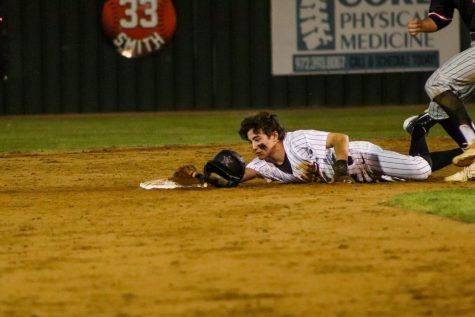 Marcus (13-8-1, 3-2 in District 6-6A) error at the plate in the bottom of the fifth allowed Coppell senior right fielder Will Rodman to score and bring the score to 4-1 Coppell (16-5-1, 3-2). In the top of the sixth, Marcus scored on a wild pitch. Coppell sophomore catcher Bradley Castillo stepped up to the plate and, at a pitch count of 2-1, Rodman scored off a Marcus passed ball.
"Marcus is a really good hitting team and showed it," Krauss said. "They had a lot of really good hits and we had to fight till the last out, one hit can change the game. We battled for all seven innings and came out on top."
The Cowboys will play at Marcus tomorrow, first pitch at 7 p.m.
Follow Torie (@torielpeck) and @SidekickSports on Twitter.