Investigation is in her DNA (with video)
Coppell High School forensic science teacher Sandy Kirkpatrick has been teaching for eight years, four of those years being forensics. Watch The Sidekick staff photographer Nandini Muresh's video to hear about her journey going from a DNA analyst to teaching high school students.
Coppell High School forensics teacher Sandy Kirkpatrick and previous DNA analyst for the University of North Texas Center of Human Identification (UNTCHI) shifts thoughtfully in a squeaky black rolling chair. She reminisces on a specific case she received during her graduate program as an intern. 
The clock ticked loudly on the wall, marking four hours since Kirkpatrick and her partner had begun working on a case in which a 9-year-old girl had been assaulted by one of her relatives. The pair scoured bedsheets and all other evidence sent to the lab by police, but nothing seemed to be left behind. 
"There's gotta be something," Kirkpatrick said. "Nobody is this clean." 
After taking a break at lunch, the pair resumed work by looking at the case file. Finally, a sample appeared. Although it was miniscule, that small sample was able to create a full DNA profile to match the child's assailant and connect him to the crime. 
If you had informed Kirkpatrick at a young age that this would be her future, she may not have believed you. 
"I went to college wanting to be a doctor," Kirkpatrick said. "That's all I ever wanted to be growing up; I kind of planned college around that." 
"
I absolutely love my job, so I don't feel like I'm going to work. I literally feel like I have never worked since I graduated college."
— Sandy Kirkpatrick
When the time came to take the Medical College Admissions Test (MCAT), Kirkpatrick had a weakness. Not only does the MCAT test subjects such as biology, chemistry and psychology, but endurance. After a nine hour grueling process, Kirkpatrick did not score what she needed to get into the medical school that she wanted to attend. 
"I called their admissions board and asked, 'What do I need to do to improve my application to get in the following year?,'" Kirkpatrick said. "They told me to go to grad school. I applied to graduate school, but I wanted to major in anything other than science so I could broaden my horizons. I picked criminal justice. That led me to a professor who became my first mentor in forensics and it just kind of took off from there." 
During her time working at UNTCHI, Kirkpatrick was able to work with the FBI on getting DNA out of exploded bomb parts, cases on human trafficking and missing persons. 
"She's honest, straightforward, with a good sense of humour," Kirkpatrick's mother Carol Kirkpatrick said. "I'm pretty proud of her." 
Despite her extensive background, experience and education in the forensic science field, Sandy Kirkpatrick noticed a problem that many women can relate to, regardless of position or job field. 
"I was probably paid less than my male counterparts, even though I can guarantee that I was more educated than some of them," Sandy Kirkpatrick said. "As a research scientist, I did get paid less just simply because my work was less physically demanding, but I was more educated than the FBI agents I was presenting to and working with. In the presentations I had to give for my work, most of the time I was in a room full of upper level agents, most of them being men; I can pretty much guarantee you none of them understood a word I was saying because they didn't have the education level to understand what I was talking about." 
"
You have the choice to do anything you want to do, and it's always important to follow your passion. If you follow your passion, you will never work a day in your life."
— Sandy Kirkpatrick
In Science, Technology, Engineering and Mathematic (STEM) fields there is often a noticeable difference in the amount of men and women. Forensic science is the only STEM field of study that has a majority of female graduates. Although it is a field largely dominated by women, they are often seen in lower positions than men according to Jenifer Smith, a current forensic science professor at Penn State University. Larger federal labs are filled with women in the bench level, however none of the labs are led by women. 
"In my field of forensic DNA analysis, most of the analysts were women," Kirkpatrick said. "However, most of my upper leadership happened to be men, which I kind of found a little odd. The lab director was a man, my direct supervisor was a man, but all of the analysts I worked with were women."
The lab in which Kirkpatrick worked was funded by grants. In order to stay employed, she had to fight for a salary. She was suggested to go into teaching, and for her first job, she was recruited by Cedar Hill Collegiate School. It was a far drive from where Sandy resided and after one year of teaching at the school, she stumbled upon Coppell. 
"I absolutely love my job, so I don't feel like I'm going to work," Kirkpatrick said. "I literally feel like I have never worked since I graduated college. Watching [students] finally get [a concept] is one of the biggest thrills of my job. Watching them come back to me years later and still remember me and the things I taught them and saying, 'Mrs. K., you really had such a big impact on me.' Just recently I actually had a student from Coppell High School choose a career in forensics and [they are] doing amazing." 
Current students of her class enjoy coming to learn more about forensics every single day, even in the virtual setting. 
"She's super fun, energetic and really cares about her students," CHS senior forensic sciences student Briella Antoline said. "She has background experience in forensics, and it's cool to see her teach her passions to younger kids. She's very good at interacting with her students even on Zoom."
Kirkpatrick takes her past experiences in the forensics lab and combines it with her passion for teaching. Despite facing challenges prior to entering the forensics field and during her time in the lab, she found a way to continue incorporating her interests into her life.  
"Never give up," Kirkpatrick said. "Keep pushing those boundaries. Just because you happen to be a different gender doesn't mean you're any less. You're just as smart; you're just as good; you're just as educated. Eleanor Roosevelt said 'No one can make you feel inferior without your consent.' So don't give anybody that consent. You have the choice to do anything you want to do, and it's always important to follow your passion. If you follow your passion, you will never work a day in your life. 
Follow Angelina (@angelinaliiu) and @CHSCampus News on Twitter. 
About the Contributors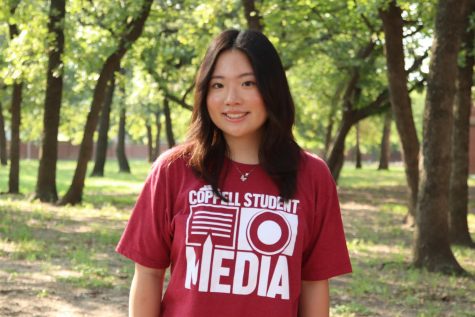 Angelina Liu, Visual Media Editor
Angelina is a junior and the visual media editor for The Sidekick. In her free time, she likes to listen to music, spend time with friends and thrift....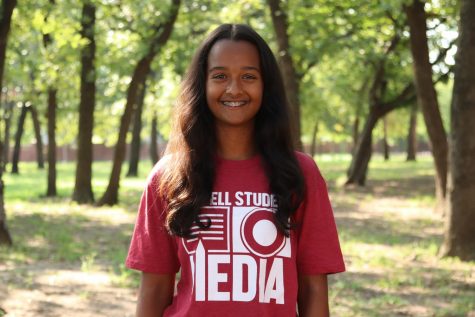 Nandini Muresh, Photo Editor
Nandini is a junior and the photo editor for The Sidekick. She is in the Coppell Color Guard, and outside of school she enjoys doing Taekwondo, dance,...