Over the bar: Coppell Invitational results in new school, personal records (with video)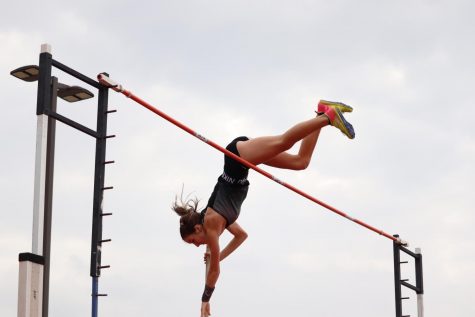 A slow clap intensified as Coppell sophomore pole vaulter Skylar Schuller approached the pit. She pushed her body through the air before clearing the 13-06.00 bar, breaking her own school record by six inches.
"I started off with good warmups but was [nervous to compete] as I was trying to jump with a bigger pole," Schuller said. "I had to remind myself to stay confident. I jumped 13-02.00 for my PR and was going to go for 13-05.00, but my coaches actually put it at 13-06.00. I was super excited when I heard that."
Coppell hosted its Coppell Invitational meet on March 11 at Buddy Echols Field, where it competed against Celina, Frisco Reedy, Lewisville, Flower Mound Marcus and Dallas Highland Park. 
The Cowgirls took home first place in the Coppell Invitational, after being led in top finishes by Schuller and the Hassman sisters, Coppell sophomore and runner Waverly Hassman, first in the women's 400–meter dash, with a PR of 58.85.
"That was a huge PR for me, with more than a second [differential]," Waverly said. "I went out strong and surprised myself as I was able to hold [the lead]. It was all about finishing from then on out."
On the Cowboys side of the meet, Coppell junior runner Wesley Arnold finished in first place, with a personal record of 51.26, in the men's 400–meter dash. In the men's 1,600–meter dash, Coppell senior runner Evan Caswell finished at 4:25.84, nearly two seconds ahead of Lewisville Marcus. 
The Cowboys took second place overall, being led by its top finishers. 
"The kids performed really well," Coppell coach Karl Pointer said. "We saw some good things and improvements which we're always looking for. Our goal is to get a district championship, hopefully we can get there. It's all about finding those parts and pieces that are going to give us the best options and chances to win."
Coppell continues to prepare for its upcoming meets and focuses on consistency in practice.
"We want to get better every week and continue to progress, we're going into spring break so hopefully we can have some good practices," Coppell girls coach Nick Benton said. "We're going to try and be as consistent as we can with practice going into district, which is right around the corner."
Follow Torie (@torielpeck) and @SidekickSports on Twitter.