The heavy burden of being a "big girl"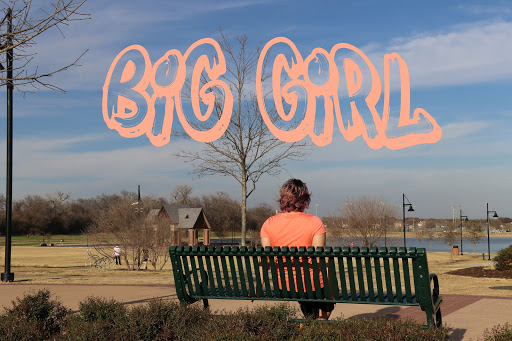 In the fifth grade, I told a girl, awe-struck, that I was jealous of how skinny she was. She turned to me, looked me up and down and said, "Yeah, and you're… Well, look at you." 
In the sixth grade, two boys passed my seat on the bus and began laughing their heads off. "Cow!" they called me. "Fat cow!"
That year I weighed 118 pounds. I was the thinnest I had ever been. 
I don't look like most girls on the internet I see. They have cute clothes and nice waists and smooth legs. These are the girls who get the likes on Instagram and go viral on YouTube. These are the girls I have compared myself to throughout my entire life, because it's what the Internet likes best and it's what the world expects to see from women. 
For the majority of my 18 years of living, I have never felt beautiful. Even if I never cried over being fat shamed, those comments are the ones that echo in my mind when I struggled to fit into jeans and bathing suits as I grew older. They echo in my mind when I would get weighed in gym class. They echo in my mind when I look at pictures of younger, smaller me. 
My weight is just one out of the many things that I have been told I need to be insecure about. That hair on your legs? Shave it. That acne on your face? Gross, fix it. Your hip dips? Get rid of them.
Girls who cannot meet these standards do not get the special girl-on-the-Internet treatment. We are viewed as the "failed products" of a society that expects so much of us from the moment we are little, and for lack of better word, that is just plain stupid. 
Weight preoccupations are very damaging: they cause eating disorders, harmful sexual behavior and suicidal thoughts. They are little seeds that don't fully sink their roots in until it's much too late for you to change the way you think about yourself. 
Whenever I bring up these insecurities with others, they shake their heads and tell me, "You're just a big girl, that's all." But if that really were all, I wouldn't get called derogatory names in comment sections online, I wouldn't need to put up with teasing jokes, and I wouldn't avoid looking at myself in the mirror because I feel like I need to be ashamed of what I would see. Being a size eight doesn't make me any less worthy of respect.
You hear it all the time: "Women are more than just a pretty face and body! These standards of beauty are unreasonable!" And you'd think that after hearing the same words for so long, there would be some genuine change in the way women are viewed. The body positivity movement makes feeling good about the way you look sound so simple, when in reality, hating yourself is an old habit that dies hard – and that's an understatement.
Just in case you don't believe the unrealistic expectations placed upon women are alive and well today, a study done by Pew Research Center found that while the number one most valued trait in men is their honesty, in women, that number one trait is their physical attractiveness. The second is their ability to be nurturing and kind, while the number two spot for men is occupied by their financial success. Financial success came seventh for women. 
What the world seems to want is a digestible woman. Easy to swallow, easy on the eyes.
If that's the case, then I am a choke hazard. But I'm done being sorry about it. 
Ideal body types change from decade to decade and region to region. At some point, somewhere, my body was the pinnacle of perfection and – if you take the time to investigate – so was yours. The sick feeling of worthlessness I have dealt with my entire life is a very sad, lonely hole I have dug for myself, and I am angry to discover so late in the game that I didn't need to waste so much time hating myself. I am so, so bitter I let myself be convinced of my own worth.
I know I am not the only person out there who sees a pair of skinny arms and legs and thinks, "Mine don't look like that." I know I am not the only person who lets out a few tears of mental and emotional exhaustion because the thought of having their body perceived by other people is horrifying. I know I'm not the only person who refuses to leave their house sometimes because of these thoughts. 
To those people, this is for you. I am sorry you were failed by a pointless societal value system, and I dedicate every day to loving myself a little more so I can say with confidence:
You are beautiful too.
Follow Camila Villarreal (@fliipthewriter) and @CHSCampusNews on Twitter.