Positive vibes only: Sunshine Committee raising spirits despite isolation
If CHS9 assistant principal Ashlee Graham had to put the purpose of the Sunshine Committee into one word, it would be hospitality.
Founded at the inception of CHS9 in 2018, the Sunshine Committee returns every year with the help of new volunteers. Run by faculty members for faculty members, the committee organizes events throughout the year to boost morale on campus. 
The organization is composed of smaller subcommittees: hospitality, birthdays and fundraisers. As the committee chair, ESL facilitator Jessica Lynch works with each subcommittee to brainstorm ways to brighten the day for CHS9 faculty.
"We want our teachers to feel important," Lynch said. "If our teachers feel appreciated, then they're going to do a great job in the classroom."
In the past year, the Sunshine Committee has held various food-related events, including lunches from Chick-fil-A, Taco Bell and Sonic. On Wednesday, for National "I Want You to be Happy" Day, committee members decorated the CHS9 teacher's lounge with emoji stickers and bought donuts decorated as emojis for teachers to grab in the morning.
"There's something about breaking bread together that brings people closer," Graham said. "Lots of families that are close have dinner together. We want our teachers to do that as much as possible with each other because that creates the type of culture we want here, which is that of a family."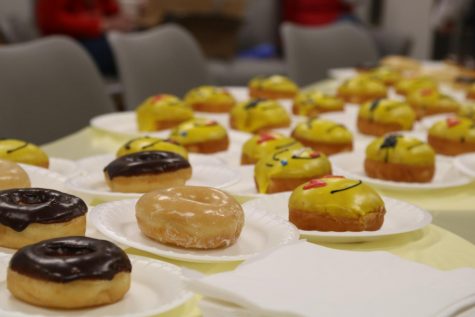 This year, the committee adapted traditional get-togethers with COVID-19 safety restrictions in mind. Individually-wrapped snacks replaced buffets, heartfelt notes replaced large gatherings and quick "hellos" replaced hour-long chats.
As an active member of each subcommittee, testing coordinator Lisa Pehl works closely with Lynch to plan events. The tandem works to construct enjoyable activities around COVID-19 protocols.
"It's hard because we can't congregate, so half the battle is finding ways to reach out to people and get them to come down [to the teachers lounge]," Pehl said. "We're so used to being cooped up in our rooms that just coming to the teachers lounge to pick up food allows an opportunity for [faculty members] to see people [they] might not otherwise mingle with."
While funding for the Sunshine Committee comes from staff donations, donors are not the only ones invited to take part in the fun. Pehl emphasizes the welcoming nature of the committee.
"Whenever we do things, it includes all [staff], even those that did not pay the dues at the beginning of the year," Pehl said. "We don't leave people out, and we do our best to be inclusive of everyone."
Apart from providing meals and planning parties, the Sunshine Committee comes together to show support for staff members experiencing significant life events. For instance, when a staff member loses a loved one or prepares to welcome a new addition to their family, committee members pitch in to buy a gift card. 
"When I switched from teaching to administration, I knew one of my priorities was going to be creating a space for teachers to get together to build relationships," Graham said. "I want to be there for the teachers to let them know that we're supportive. If people are celebrating the birth of a baby or a marriage, we want to celebrate along with them."
Graham thinks students benefit from the positive campus culture reinforced through the committee's work.
"Everything we do has a trickle-down effect on the kids," Graham said. "Ultimately, the wellbeing and happiness of our teachers impact kids because the teachers that enjoy coming to work are more motivated to work hard for their students."
Follow Trisha (@trishatluri) and @CHSCampusNews on Twitter.