Stepping up to the plate
Mercado prepares for Olympic softball tryouts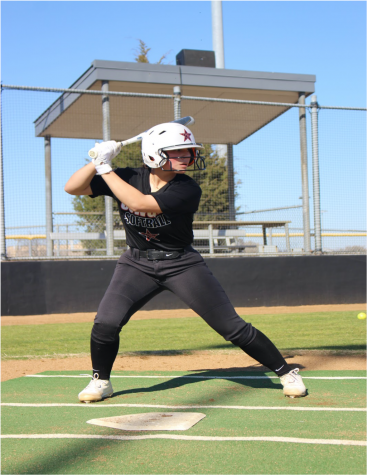 A quick signal to the pitcher. The whizz of an incoming neon-yellow softball. The snap of a leather glove. 
Strike!
Softball is Coppell senior catcher Dafne Mercado's happy place. Surrounded by her closest friends and an intense game easily diminishes the stress of the outside world. On the field, there is only one thing to worry about: the next pitch.
But Mercado's love for softball didn't come as naturally as one may think.
"I started playing softball when I was 8, after moving to Coppell from Grand Prairie," Mercado said. "The first time I tried out, I wanted to quit because I didn't like it at all; everyone had been playing for a long time, and I was super behind, and my skills weren't [up to par]."
No matter how much she wanted to quit when she first started playing, Dafne's parents, Maribel and Jose Mercado, encouraged her to give it a shot. With help from Sparks coach Landon Wilson, the game started to come more naturally.
"I [told Dafne] to keep trying until she gets it," Mrs. Mercado said. "Sometimes when the game didn't go her way, she'd get discouraged and want to quit. I just told her to keep working and she'd get it."
As her skills grew, so did her maturity and confidence. Now, Dafne knows her errors do not define her.
"There's some days where I don't want to do stuff after I've had a bad game," Dafne said. "But I always have my mom and coaches there who believe in me. If I make an error, I know they'll be behind me and keep pushing me."
Her hard work paid off. Dafne continued to improve over the years and began to feel at home on the field. Now, she shines as Coppell's starting catcher on the varsity team. 
"[This year] I had three catchers and picked Dafne for district," Coppell softball coach Mike Dyson said. "What we've done in previous years is have her switch off with seniors; this year, it was a competition to see who I thought was going to go in and play the game. I've seen immense change in her attitude and demeanor [over the years]."
Once Dafne got comfortable on the field, she started to focus on her future. A common goal, while not an easy feat, would be to go Division I of the NCAA in college. But that is not what Dafne did.
During Dafne's junior year, her friend Ralls High School junior Jazzlyn Vaquera made the Mexican Olympic team. After Vaquera made the team, Dafne's interest spiked. Ralls is located outside of Lubbock.
Trying out was a no-brainer.
"The reason I get to try out is because most people who are already on the team are on [Division I] softball and some people couldn't play due to COVID-19," Dafne said. "I get to go in the summer and try out. If the coach likes me, I'll go up there to train and see if I can start."
Dafne expects to try out for Team Mexico in the 2024 Olympics around July or August of this year, though she is yet to receive a date and location. 
"People are seeing what Mercado can really do," Dyson said. "She's hitting the ball well and really standing out, [along with having] a cannon of an arm."
While Dafne awaits more information on her Olympic tryout, she continues to play softball for the Cowgirls, will play select softball over the summer with Impact Gold and will attend Tyler Junior College, where she will play for the Apaches for the next two years.
"I love softball, and [hopefully] I will be able to play for four or five more years.  Dafne said. "[Softball gives] me something to look forward to [and] helped me become a stronger person, mentally and physically."
Follow Torie (@torielpeck) and @SidekickSports on Twitter.