Entrepreneur turned high school teacher
Simpson funnels business experience into becoming full-time educator
In August 1996, San Diego Padres Public Affairs intern, and current Coppell High School social media marketing, sports and entertainment marketing and INCubator teacher, Brian Simpson headed down to the locker room to bring third baseman and MVP Ken Caminiti onto the field as fans lined the corner to get his autograph. 
"[Caminiti's] sitting in front of his locker, and he's got ice packs on him like you wouldn't believe. This guy looks like he's near death," Simpson said. "I came up to him and I'm like, 'Hey Mr. Caminiti, I was just sent down here to send you up to do the autograph signing for the season ticket holders,' so he gets up. He's just in pain, and he has to play in a couple of hours. We ride the elevator all the way up to where the fans were and he walks out like, 'Hey, what's going on?' [as if there was] no pain." 
Eight years later on Oct. 10, 2004, Caminiti overdosed and died from cocaine and opiates. 
"I was just always amazed at the tolerance that [athletes have] because you don't see it," Simpson said. "When a player is hurt, I don't hold it against them. Some people are like, 'Oh, that guy's soft.' I'm like 'You don't know anything. These sports are hard on their bodies.' You just didn't get to see a lot of [the toll sports have on athletes], and I had a front row seat for a lot of that." 
Despite his behind-the-scenes ticket to the game of the harsh world of professional sports, which he also saw as the marketing/public affairs intern for the San Diego Chargers, Simpson keeps a smile on his face. 
"[Simpson] is very positive, open and enthusiastic," Park Cities Baptist Church sports and recreation program director Laurie Tharp said. "He was a joy to start working with." 
Tharp and Simpson grew closer as they worked together on one of Simpson's successful ventures: a small business named Triumph Sports. 
Triumph Sports, a sports camp focused on incorporating Christian teachings, was an extension of a field Simpson was already familiar with when he previously worked as the Skyhawks Sports Academy Regional Director in Fort Worth to run sports camps.
"I was leaving my job [at Skyhawks Sports Academy] in 2004 where I had a good salary, a good job and it was home based," Simpson said. "It was killing me every morning, running with my dogs and thinking I could be running my own sports camp business, and by the end of summer 2004, I had decided to launch my own business."
While his business was still in the early stages, Simpson decided to get a job on the side to support himself, working as a yearbook, debate and video teacher in addition to being a football and baseball coach at Ferris High School in Ferris, Texas in 2005.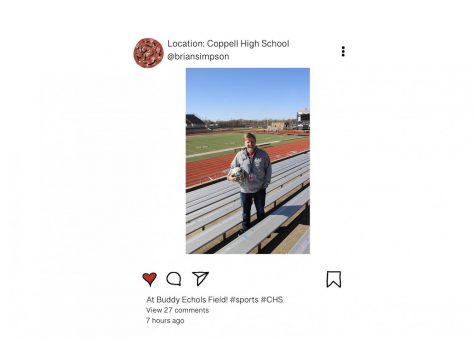 "It was like drinking out of a fire hose; I was just working like crazy," Simpson said. "At the end of my [first year], I won a teacher of the year award for new teachers." 
After moving to Fort Worth four years later, Simpson began his job at Byron Nelson High School as a speech and debate coach for five years. There, he taught 2014 Byron Nelson graduate Madi Gackenbach, who would eventually take on the very position Simpson once held. 
Even today, Simpson and Gackenbach (or Gacky, according to the nickname Simpson gave her) keep in touch, especially because of a life-changing event Gackenbach went through. 
In the spring of her junior year, Gackenbach was elected as the president of the speech and debate team for her senior year. Two weeks before her senior year began, Gackenbach found out she was pregnant.
"I was very nervous to talk to Coach Simpson because I had earned this spot as president, and I didn't want to leave the team; it was my whole identity," Gackenbach said. "When I told him, he was very shocked. I told him I was quitting the team and that I could no longer be president, all while totally bawling my eyes out. He looked me in the eyes and said, 'No, you're not.' I was like, 'No, you don't understand I can't do it,' and he said, 'I do not want to have a president if you cannot be the president of our team.'"
Despite other teachers who expressed their disapproval of her, Simpson stood by her side.
"Coaches complained, thinking I was a bad role model to be parading around, and Simpson defended me," Gackenbach said. "I had teammates who had told their parents [that I was pregnant], and the parents were very angry and wanted me no longer to be president because I wasn't a good role model, and Simpson defended me. When the school district didn't want me to compete for them, to be the face of their school district, Simpson defended me."
However, in 2014, Simpson decided to quit his teaching job to take care of Triumph Sports, which was experiencing a surge in growth.
"I missed [teaching]; I was dying [without it]," Simpson said.  "My wife's like, 'You know it looks like you're enjoying running your own business, but man, teaching's your passion,' and I said, 'It so is.'" 
When he received an opportunity to teach speech and debate and principles of business and money matters at Argyle High School, especially with his experience owning a  successful small business, Simpson took the offer. 
When Simpson quit to focus on Triumph Sports again in 2017, his business was still booming – that is, until COVID-19 shut down his business in 2020, which prompted his return to teaching, this time at CHS.
"I always like it when [Simpson] tells me that like, 'Hey, I just got hired at Argyle' or 'I just got hired at Coppell,'" Bowmen Sports director Nick Barrows said. "I like that he is able to have the time to go and pour back into students and bring recognition to their programs." 
His side job had become his permanent job, one he enjoyed, one he had a passion for and one the people around him hopes he continues to pursue.
Follow Shreya (@BeldonaShreya) and @CHSCampusNews on Twitter.