Track breaks school, personal records in first meet of the season
By Meer Mahfuz and Torie Peck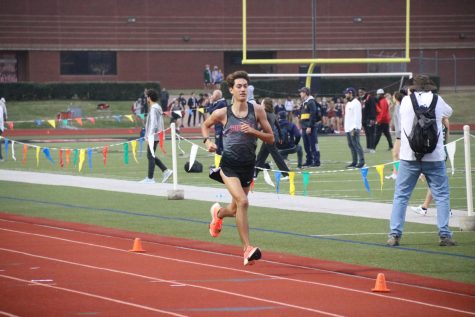 A haze set over Buddy Echols Field. The starting pistol fired and with it, Coppell senior long distance runner Evan Caswell took off in the men's 3200 meter run. Caswell tore past his competitors, finishing with a school record of 9:12.17.
 In the men's 1,600 meter, Caswell broke his personal record and finished first with 4:22.55.
Caswell's first place win, along with many other top place finishers, placed the Cowboys at third overall at Saturday's Coppell Relays.
The Hassman sisters, sophomore and senior runners Waverly and Chloe, as well as Coppell sophomore hurdler/pole vaulter/high jumper Skyler Schuller lead the Cowgirls to finish second overall. 
Because Coppell's first two meets canceled due to inclement weather and there was worry of this meet getting canceled due to the rain as well, Coppell coach Karl Pointer is happy with how the meet went as it was the first time that his athletes could get times in and he could see where everyone stands going forward. 
"We did pretty well looking at our overall team standings," Pointer said. "We're going to take a look at our times [from this meet]. We see some [areas] that we need to continue to improve upon before district."
On the field side, Coppell junior Alvin Obosele finished third in men's shot put and set his personal record at 44-14.75. Coppell junior Ryan Sewell placed second in men's discuss at 126-03. Coppell sophomore high jumper Matthew Saucedo tied his personal record for men's pole vault at 5' 08".
The Cowgirls were led by Schuller, who placed first in the women's 100 meter hurdles at 14.80, and Chloe Hassman, who set a personal record for the women's 3200 meter run at 11:08.36.
The Cowgirls, however, faced difficulties after a runner fell face-first, dropping the baton in the women's 4×200 meter relay, causing Coppell to finish last. 
"We were doing really well until we had a girl fall,"  Coppell girls coach Nick Benton said."When that happens you've got to regroup. We'll fix it and be good next week."
Due to COVID-19 protocols, this meet was smaller with only eight teams competing, instead of the normal 14. The day was split into two meets, with the JV meet in the morning and the varsity meet in the afternoon.
"Having a split meet was a learning curve," Pointer said. "There was a little less recovery for the kids in between events. It's just one of those things we'll have to learn as we move forward."
Coppell will travel to the Prosper Relays on Saturday, with competition beginning at 8 am. 
Follow Meer (@meer_mahfuz), Torie (@torielpeck) and @SidekickSports on Twitter.