Tan taking international fencing experience to Yale
As she approached the fencing strip, adrenaline and excitement pumped through her body. With a mental plan ready, she faced her opponent, ready to enforce the techniques and skills she developed through her fencing journey. 
Coppell senior Helen Tan started her fencing journey in fourth grade and has since committed to the Yale's fencing team in March 2020. 
"I saw this one [fencing] ad and [it was] talking about going to a free introductory class, and so I was really interested in that," Tan said. "When I started, I immediately fell in love with it because it was so unique, and the community at my [fencing] club was really nice." 
Part of the reason Tan found fencing appealing was due to the sport's distinctive characteristics. 
"It's very unique how in order to win a game you have to stab the other person," Tan said. "That was just something I felt was special in that only fencing has a sword aspect. They say fencing is like the 'physical chess' so that's really interesting how mentally, you have to be really strong and obviously, physically [as well]." 
By representing the United States in international tournaments and her club, the Fencing Institute of Texas, in national tournaments, traveling became a huge part of her life. She traveled about two to three times per month both nationally and internationally.  
"It's exciting having teammates from all around the country come together and fence at this one tournament," Tan said. "When you are at the tournament, everyone is cheering each other on, and we are like one big family."
By making it onto the national traveling team, Tan had the opportunity to visit different countries, interact with people of different cultures and learn different fencing styles.
"There was this one tournament two years ago in Germany, and before the tournament there was this camp that was going on," Tan said. "I stayed [there] for an extra two or three days and fenced with some of the people who stayed there. There were Americans, Germans, Italians and everyone from all over the world. From that experience, I learned a lot about German fencing and international fencing."
Representing the United States at the Pan American Championship, Tan received gold in the team event and silver in the individual event. One of Tan's best results was in February 2020, where she received silver at the U.S. Junior Olympics.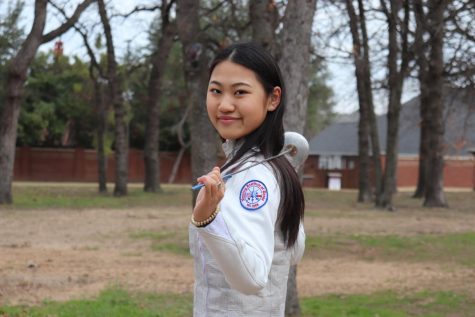 "I remember the morning after the tournament I woke up and was like, 'Wait that just happened. Was that a dream or something?" Tan said. "That was crazy."
Volodymyr Yefimov, Tan's Fencing Institute of Texas coach, also admires her perseverance and performance in fencing. Prior to teaching at Tan's club, Yefimov worked for the Youth Sport School of Troyanda as a Youth Fencing Coach. 
"[Tan] has a really stable technique set and is very smart on the fencing strip," Yefimov said. "She is a well-rounded fencer and is very athletic as well. Whenever [she] feels one of her skills needs more work, she always stays after practice to do target work and footwork. Her repetition of skills is what makes her skillset very strong."
Maintaining excellence in both her athletic and academic careers led Tan to choose Yale.
"I remember when the Yale coach, Haibin Wang, sent the email about the commitment, so I literally just ran downstairs and screamed to my parents, 'Oh my God, I got the commitment,'" Tan said. "I just really want to hopefully go on campus next year and really be a part of the Yale fencing team's community there."
Tan's teammates are very proud of her hard-work and success to reach this point in her fencing and academic career. 
"[Tan] will fit in perfectly fencing for Yale," club teammate Jack Bratton said. "It has one of the best fencing teams in the country, combined with having the atmosphere of hard-working, ambitious people that Helen thrives around. She will have a great time and continue on to achieve greater aspirations."
Follow Drishti (@drishti_gupta_) and @SidekickSports on Twitter.