KCBY-TV marking 25 years: sharpening impact, student-run program
December 12, 2020
It all started with a cream-colored desk. 
A single microphone poking out of the boxy model, built on a 12-inch platform by the Coppell ISD maintenance department and embellished with a red Coppell Cowboys logo. KCBY-TV's first anchor desk in 1995 is where the program began, as daily announcements broadcasted at Coppell High School. 
Twenty-five years later, the original anchor desk has been replaced with a sleek, mahogany model in front of a green screen where weekly shows take place.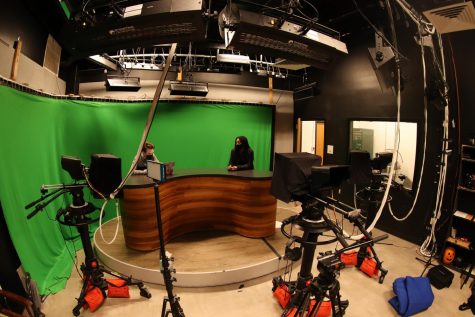 The broadcast journalism program's first show released on Oct. 10, 1995; this year, it celebrates its 25th anniversary. Not only has KCBY's classroom space and technological capabilities expanded, but so have its audience, offerings and overall impact. 
KCBY adviser Irma Kennedy is in her 15th year of leading the program. During her tenure, KCBY has covered a multitude of issues and events, such as political rallies and red carpet festivals. From John McCain's Tyler rally in 2000 to Beto O'Rourke's Austin rally in 2018 and interviewing actors such as Will Smith and Charlize Theron at the American Film Institute's annual festival in Dallas, KCBY has captured historic moments beyond Coppell. 
"It's been a wonderful ride," Kennedy said. "Those beginning years were sweet in that we didn't have much. We had four Dell computers and we used to edit on Final Cut Pro. We've been able to stand in the press corps with real media and I remember how kind everyone in the news has been to us. The cameramen would always make room for us. That was a very warm feeling; they knew the kids were learning and growing." 
When Kennedy arrived in 2006, the program's emphasis was on its special features, or short, comedic pieces. Since, the addition of sports, news and feature segments with a focus on the community has made each of the 25 annual shows eclectic and all-encompassing. 
"This was a show the students watched during lunch and they wanted stupid humor," Kennedy said. "The viewers wanted it as much as the kids who were producing the skits. It was a slow evolution, but it's now a real broadcast and we have all the top awards in the nation to prove that this is a very valid show."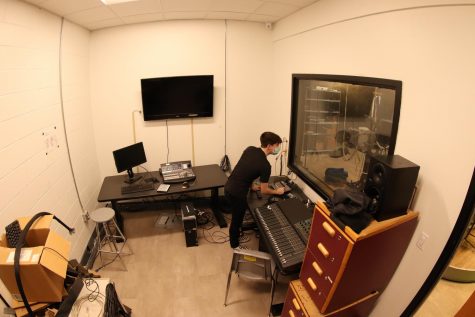 Throughout the program itself, the addition of two main elements are especially notable: social media and KCBY Español, the broadcast program's Spanish counterpart. 
KCBY releases and advertises much of its content on its Instagram and Twitter platforms. On Instagram specifically, the staff releases shorter segments called Cowboy Countdown and Sideline, highlighting the latest in news and sports. 
"Our viewers are there, and we're able to meet their needs and still get content out, which is important," Kennedy said. "All this is new. It's all new technology, so it has changed the game. It's up to us to ride that wave and get our message out."
CHS 2010 graduate and current KSAT-TV San Antonio reporter Alicia Barrera served on KCBY for three years and helped start KCBY Español. After graduation, she went on to study mass communication with an emphasis in journalism and a minor in Spanish at Our Lady of the Lake University in San Antonio. 
Barrera's desire to be a journalist began when she watched Univision Channel 23, the only Spanish-speaking news network available state-wide in the 1990s. KCBY gave her the skills and real-world experience to pursue her dream. 
"When I finally got a chance to get involved in the media, I knew it was for me," Barerra said. "KCBY taught me that this is not a walk in the park; it's not glamorous and [I was] going to have to make sacrifices. Even as a high schooler, I was very media and work driven. At home, I would spend all my time editing and making things with the videos we were shooting at school. I didn't let the errors or the nervousness tell me I wasn't cut out for it. I just knew I had a passion for it. Here I am 10 years later and I still love what I do."
For Barrera, seeing Kennedy annually at the Lone Star Emmy Awards, until they went virtual this year, felt full-circle.
"I went from dreaming – anyone can dream – to thinking, 'how can I make this happen?' to making it happen," Barrera said. "My first, and one of my biggest cheerleaders, is Mrs. K. Being able to have that moment with her and being at such a prestigious award ceremony, for her to see me and for me to see her, as Latinas too, it's emotional because I'm here because of Mrs. K. If it wasn't for her, I wouldn't have made the connection that 'hey, I can be that; I can do that; I can also make it in this business.'"   
"
I just knew I had a passion for it. Here I am 10 years later and I still love what I do.
— Alicia Barrera
KCBY continues to have an impact on its members, even through an unconventional school year. Prior to KCBY program director Juliana Thompson's time on KCBY, she was an avid reader and writer, with a developing interest in videography. Her tenure on KCBY solidified her existing interests and built a clearer vision of her future: studying journalism and communications in college. 
"When I joined the program, it made me realize that journalism and news and storytelling in general is the perfect mesh of all those little hobbies and interests that I've had," Thompson said. "Being in KCBY and making segments for so many years has shown me that I have a passion for journalism. Besides that, there's the fact that we're in a global pandemic and stuck at home and I'm still wanting to make segments every week, which is something I wouldn't have expected."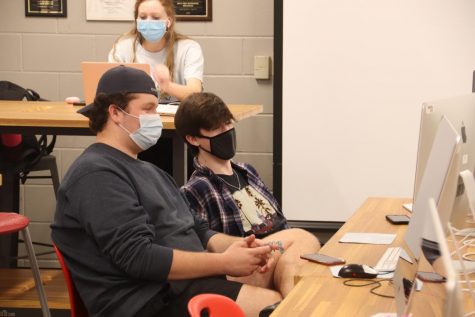 In October, the staff put together Show 4 as a throwback show, commemorating the program's immense growth. It examines the transformed studio, discusses CHS' evolution with Principal Laura Springer and includes messages from KCBY graduates that have gone on to work at companies such as ESPN and Disney.
"The reason we made our 25th anniversary special was to show the community how far we've come as a program," Thompson said. "It's very easy for a big program like this one to fall into a pattern or be the same thing year after year just to simply put something out. But every single year since 1995, we've been tweaking things and doing things a different way in order to give the community the end product we have now."
For Kennedy, KCBY first and foremost imparts skills and lessons about communication that are applicable in every field. 
"We don't realize how important communication is," Kennedy said. "I look at the program not only as though I'm creating tomorrow's broadcast reporters. I'm not. I am helping students become better communicators. You don't have to go into broadcast journalism. You don't have to go into the media. Whether you become a doctor or a lawyer or an entrepreneur, whatever you do, you need to learn how to communicate." 
As 25 years progressed, the footage sharpened, the colors became more pronounced and a program that captures the culture of a constantly evolving school, student body and district took shape. The development and continuation of KCBY speaks to the importance and resiliency of student journalism. To Barrera, Thompson and Kennedy, KCBY is more than a class or elective. It is a passion, experience and powerful means of both telling and sharing stories. 
"We wore our KCBY staff shirts with pride because we knew the responsibility that we had," Barrera said. "Whether it was to make someone happy or to draw attention to a fundraising effort. It makes me happy that these issues, like sexual assault or discrimination, are being addressed, because they're not just happening on a large scale. They're happening at home, they're happening in our halls. With a leader like Mrs. K, Coppell is in great hands. I hope more leaders in Coppell and in Dallas take notice of that and try to mimic programs like these because they are so necessary."   
Follow Shivi (@_shivisharma_) and @CHSCampusNews on Twitter.