KCBY livestreams making Coppell sports a click away (with video)
With the subtle adjustment of a camera lens and the dedicated camera running alongside the ball, the cheer of the adoring crowd can come to life on a cell phone. Thanks to the KCBY-TV crew and special projects team, Coppell High School home football games and volleyball matches are being streamed live. This gives parents and the Coppell community the opportunity to watch from the comfort and safety of their own homes during the pandemic.
"Considering the circumstance of the coronavirus, the livestreams have been sufficient substitutes," Coppell ISD Athletic Director Kit Pehl said. "Going in person is a better experience for participants, so livestreams aren't a long term solution. The number of views we get are great, which is encouraging because the work we put into the livestreams is being utilized."
The athletics department is working closely and consistently with the KCBY special projects section to produce the livestreams. All the equipment was purchased by the athletic department for KCBY to put a visually appealing spin on livestreams.
"Not every school or district is able to produce a livestream [due to funding]," Coppell senior special projects director Oliver Isenberg said. "The district decision that sports games were important enough to set aside time and a budget to plan and produce livestreams for parents who are unable to come in person to watch their child is special. On multiple occasions, parents have come up to me to thank me for the live streams because they felt like they were there watching it."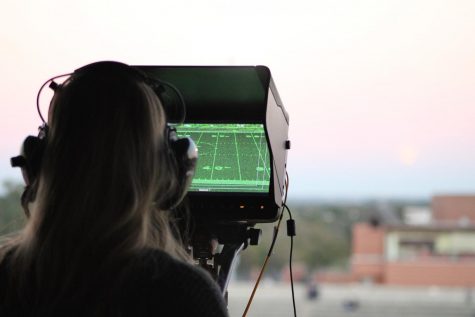 The acquired equipment is located in the CHS Arena and Buddy Echols Field. For varsity football games there are two stationary cameras on both press boxes and for volleyball there are two cameras in the middle of the court. One for a tight shot and another for a wider angle to cover clusters of players. There are two additional cameras for football; one at each end zone to capture the game from the field, providing a more personal angle and sense of watching the game from field level rather than stadium seating.
"I believe [KCBY] has a gift and skill," KCBY adviser Irma Kennedy said. "I'm always looking for opportunities to partner with other programs at our school to utilize our skills and open doors for students. We've worked with the athletics department before, but [the livestreams] increase that partnership by 10."
Pehl and Kennedy have been working together in the past to involve and bring together the two subsections of Coppell High School. The coronavirus has jump-started this process with livestreaming.
"It's important to combine departments at CHS because otherwise the campus would remain compartmentalized," Pehl said. "As a one-school district, our opportunity to support each other and move across lines is healthy. The relationship between sports and KCBY is positive, as it broadens the student's horizons, and if we continue to build on that relationship every year, it would largely benefit both programs."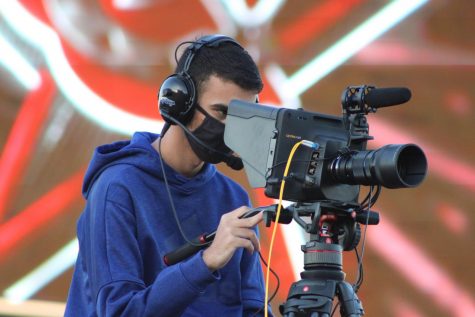 The athletics department gives the KCBY crew creative discretion for camera positioning and placement. The coronavirus has opened a window of opportunity for coverage by the KCBY film and play-by-play broadcasters crew.
"The coronavirus makes it hard on [KCBY students] to work from six feet away because we are a tight knit group who works hard and long hours, but we are doing our best," Isenberg said. "However, it's worth it to give players the opportunity to replay their spectacular plays. KCBY does a great job of keeping their production running, instead of letting it fall apart or deciding it's too hard and not worth it."
Since the seating capacity for Buddy Echols Field is 4,200, the demand for seeing events virtually has increased. Livestreams can be viewed under the  broadcast on the Coppell Athletics website or app. 
"To be able to capture that moment and bring it to the viewer is the magic of video," Kennedy said. "To be able to share those moments with parents or family members who can't be there in person or don't have access is special. We all want to be a part of the action and we have devices at our fingertips that can provide that for us."
Follow Sapna (@sapnaamin6) and @SidekickSports on Twitter.