Connell adding color to Coppell through sculptures
Old Town Coppell is the destination for Instagram photos, but the abstract seven-foot sculpture of a metallic red pony adds another layer to the appeal. This is even more so the case after learning about the sculptor who created the now popular piece of art that has remained in place for almost five years.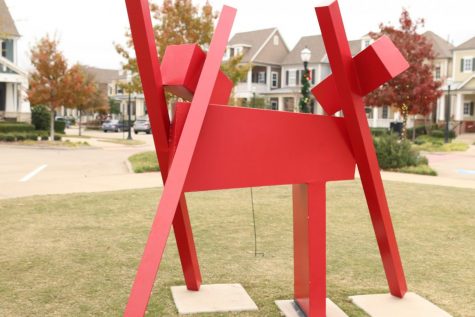 Red Pony is a metal sculpture crafted by Russ Connell that was introduced to the area in 2016 as a part of the Coppell Art Council's Old Town Art Splash project, where the metal work was displayed as part of a two-year exhibition. However, many Coppell residents took a liking to the red sculpture and worked to keep it in its place. With the help of a generous sponsorship from Coppell-based ETS [Event Technology Services], the Coppell Arts Council was able to purchase the sculpture and gift it to the City of Coppell. 
"Although it's abstract work, you can find geometry and form that relates to your everyday life. [Connell's sculptures] appeal to a broad range of people in contrast to most abstract art that has a targeted audience," Coppell Arts Council member Janna Tidwell said. "People in this community especially could relate to it. [ Coppell Arts Council] liked that it tied into the Coppell school colors and the fact that we're the Cowboys, so it's a perfect fit for many reasons."
The Red Pony sculpture essentially acted as an introduction to the realm of art where Connell was able to showcase his work publically. 
"Red Pony was the first piece I would [call] a large-scale public piece," Connell said. "My real passion is showcasing in the public sphere. I really like seeing my work in a city where I can walk past [the sculptures] on the street and interact with different people."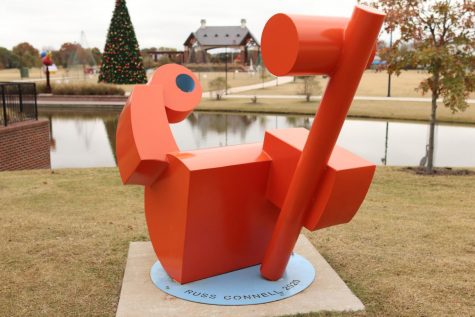 Connell has multiple pieces scattered throughout Coppell including Wawoo located in Andy Brown Park East. According to Connell, the sculpture is named by a young passerby named Katie, who named it after her stuffed giraffe. Connell found the best working process was to create the things he wants to make the most so people can see the passion through his sculptures, and instead of making work to sell, he aims to make work that stays true to himself and his roots.
"I graduated from the University of North Texas with a degree in jewelry, a very small metal, but it's the same concept where you're designing, soldering and welding. I started off small and wanted to build things bigger and bigger," Connell said. "I started apprenticing with a blacksmith [Larry Whiteley] in college for two years, and that led me into bigger work and welding. It happened pretty organically and my pieces naturally began to grow in size."
After graduating, Connell reached out to a former UNT classmate, Mick Burson, who is known for his abstract approach to paint. Together they designed a collection of sculptures where Connell moved past his usual monocolored pieces and welcomed a colorful splash to his steel metal works. These works were displayed at Connell's first official gallery with the Craighead Green Gallery alongside his other bronze pieces in 2018. 
"[Connell] is more calculative in what he makes and how he presents it," Burson said. "When I paint, it offers a nice contrast. Sculptures have a certain feel about them where they can be cold and unattached, and my painting is the complete opposite of that."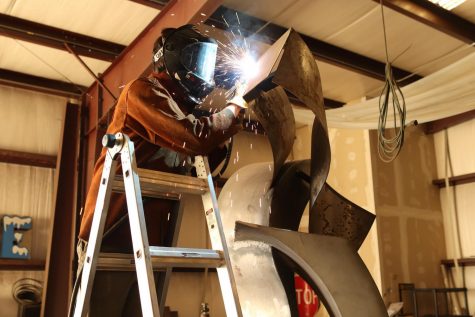 To date, Connell's favorite piece is Ascension, a two-year old 24-foot tall, 10,000 pound metal sculpture at Hall Park in Frisco. Ascension was built in three different sections that were moved to the site in Frisco. The three sections were then assembled on site using a crane. It stands tall in the park surrounded by 165 other important pieces of contemporary art. The owner of the park, Craig Hall, thinks his collection of sculptures can be extremely beneficial to people's lives. 
"It's fun to see your work and ideas come together with these large machines and build it on a large scale," Connell said.  "I love to create and the opportunity to be better, everytime I finish something. If I see something I don't like and make a new and improved [sculpture]."
See more of Russ Connell's work at russconnell.com
Follow Anette (@AnetteVarghese) and @CHSCampusNews on Twitter.