Health science students plant foundations for community garden, food pantry
Coppell ISD houses gardens on several campuses across the district, providing fresh and healthy food options for students. Joining the district garden initiative this year is CHS9, with a grant to fund a campus garden and food pantry. 
Projected to be completed in May 2021, the CHS9 campus garden is funded through the CISD Give for Grant's initiative. Give for Grants was launched last year by the district as a way for donors to give funds directly to the grants of their choice, which are created by teachers. The CHS9 community garden and food pantry grants were created by CHS9 Principles of Health Science teacher Bill Borowski, whose students came up with the idea of a community garden for a year-long service learning project that begins in the fall semester. 
"What we're building here in [CTE classes], it's great," Borowski said. "The kids are interested in healthcare, and I want them to learn about it, but there are kids in my class that won't go into healthcare. So we're teaching them how to be citizens, employees, people that care about the community and move things forward." 
The idea for a community garden originated with former CHS9 students and Coppell High School juniors Ravina Panaparambil, Poojitha Diggikar, Kaitlyn Pham, Rosanna Jees and University of North Texas Texas Academy of Math and Science (TAMS) junior Vignesh Sanagala. For their service learning project, they focused on hunger and sustainability and developed a plan for a garden as a way to pass the project on to future health science students. 
"We thought it would be a good way for CHS9 to make some of their own produce," Sanagala said. "I was there when we built the [Pinkerton Elementary] garden, as well as the [Lee Elementary] garden. School is one of the only places where [low income students] can maybe access healthy food. So the initiative to try to make sure that everyone is getting their balanced diet is really important."
"
Being able to be a servant leader and help each other is one of the most important things we can teach the kids. When they get into the real world, they'll be able to make a much bigger impact."
— Bill Borowski
As part of the service learning project, the students also researched and developed in-depth plans for the garden, such as a location, the types of plants, construction and costs. The garden grant was set up for $3,158 to cover the costs of wood and construction tools for eight raised garden beds, soil, fertilizer, seeds and garden tools. 
The food pantry grant was set up for $2,105 to cover costs for shelving and plastic crates, and while its exact opening date is subject to change depending on funding, the estimated opening time is in spring 2021. The food pantry is expected to house food from the garden to be donated to homeless shelters and local food drives. 
"It was a very, very detailed plan," Borowski said. "I was really impressed by the end of the year. They are kids that are smart; they're passionate; they're able; they're learning all these skills that they can do, but they can actually make an impact."
To maintain the garden and food programs, the project has been passed down from year to year, with current freshmen, sophomores and juniors all working on the project. Once completed, health science students will have the opportunity to cultivate the garden over the summer to earn service hours. 
"I personally enjoy gardening; it's a hobby of mine," CHS9 student and project worker Hana Sawaf said. "Creating something that is useful, specifically for the school, will be beneficial for a variety of reasons. Healthy eating habits can go a long way."
For Borowski, the most important lesson students learn through the garden is how they can make an impact. 
"Being able to be a servant leader and help each other is one of the most important things we can teach the kids," Borowski said. "They're gonna forget the paper they did on Hippocrates, but these [service projects] are bigger things; these are life things that they can do. And when they get into the real world, they'll be able to make a much bigger impact."
Follow Akhila (@akhila_gunturu) and @CHSCampusNews on Twitter. 
About the Contributors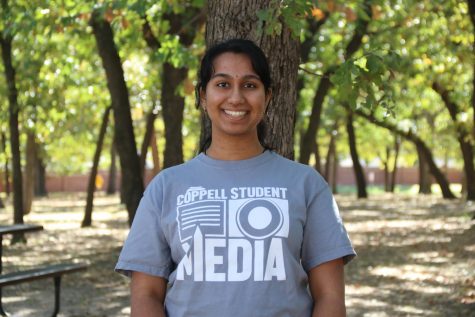 Akhila Gunturu, CHS9 Editor
Akhila is a junior and the CHS9 Editor for The Sidekick. She is part of the IB Diploma Programme at CHS and when she isn't doing schoolwork, she enjoys...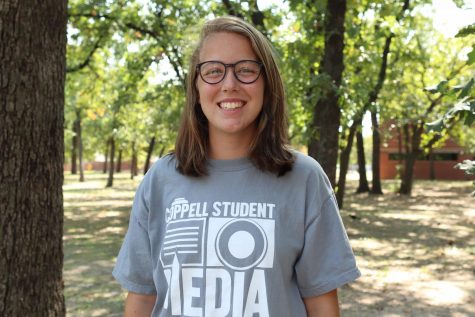 Samantha Freeman, Executive Design Editor
Samantha Freeman is a senior and the executive design editor of The Sidekick. She is on the Coppell High School varsity tennis team and has been playing...