Deputy city secretary discusses voter turnout, early voting
Nearly 20,000 ballots cast city-wide prior to Election Day
With residents waiting in socially-distanced lines to cast their ballots and partisan and nonpartisan ballots being on the same ballot for the first time in the city's history, the 2020 election looks a bit different for Coppell. In anticipation of Election Day, which is tomorrow, The Sidekick spoke to Coppell Deputy City Secretary Ashley Owens to reflect on early voting in Coppell and understand the city's preparation and timeline of results. 
How has Coppell's early voting period been?
On the first day, we had a lot of voters. Over the second week, it kind of died down but we still saw very consistent numbers across the week and in the third week. We closed out strong on [Oct. 30]. We didn't necessarily have any lines at the end of the night, but we still had consistent numbers. At Coppell Town Center we surpassed 10,000 voters, and the Arts Center was a little under that. 
Have you observed any memorable moments at the polls?
We've had a lot of first-time voters that have come through. The poll workers that have been at the Town Center and Arts Center try to make it a very special moment for those first-time voters. They ring a bell, they clap, they cheer. It's very nice to hear about those, and from my office I can hear them going off pretty regularly. 
How do you think the addition of the Arts Center as a polling location impacted early voting this year?
It's gone very well. If we didn't have the second location, it would have been a huge hardship on the staff that's still working out of Town Center, to pass through almost 20,000 voters. It decreases the strain on Town Center alone and it allows for our citizens and visitors to see this beautiful, brand-new building that has all of this artwork. People were just excited to be in the building, in addition to voting. 
What is the city doing to prepare for Election Day?
We've got signs out at Town Center and in the Arts Center. We're encouraging folks to wear their masks, we're encouraging them to social distance with "puppy track" stickers down on the sidewalk. We're encouraging everyone to be respectful of their space and sanitizing. We'll provide you a mask if you need one. We want people to come and do their civic duty, and if there's anything they need, we will provide that. 
Just a reminder that Election Day is TOMORROW, November 3! 🗳️☑️

❗ Dallas County registered voters can vote anywhere in their county on Election Day.

‼ Denton County registered voters MUST vote in their PRECINCT! https://t.co/BLLnGO51YV pic.twitter.com/CowmMBABbq

— City of Coppell (@CityofCoppell) November 2, 2020
What are the main things you want residents to understand for this election cycle?
Do your part. If you haven't voted yet, please come vote, and hopefully you will have a pleasant experience. Dallas County will allow us to see our early voting results at around 7 p.m. tomorrow night, but we have to wait until they certify their results. It's going to be a little tricky, but we rely on the county and their expertise in this field. We hope to provide a seamless process for our voters. That is our main goal. 
Follow @CHSCampusNews on Twitter. 
About the Writer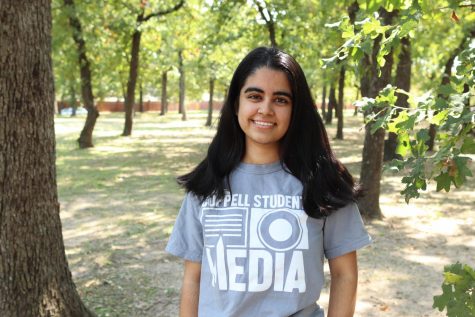 Shivi Sharma, Executive News Editor
Shivi Sharma is a senior and Executive News Editor for The Sidekick. She is part of the IB Diploma Programme at CHS and also edits for Brown Girl Magazine....