Sew many masks, so little time for local senior group of knitters
When the community calls, the ladies of the Coppell Senior and Community Center group called Knit Wits answer, whether it be in the form of crocheting baby products or making masks for a global pandemic.
The Knit Wits were created in 2014 after being introduced to knitting through a round loom and a simple hat-making class. Over time, this group of 85 women has jumped from one project to another, making sure to meet needs in the Coppell community. The club has donated more than 60,000 sewn and crocheted products since 2014, including baby products and masks.
During the coronavirus pandemic, the Knit Wits have sewn more than 5,000 masks, both to sell and donate. Members came together and made hats, some crochet blankets, some sew.
"Some of the ladies were wanting to do something to help because of the shortage of masks and other things the hospitals and children's centers needed." Knit Wits member Kathy McCoy said. "We had a lot of masks that had patriotic patterns on them and we had so much of it I gave [my husband] some to take to the VA [Veterans Health Administration Hospital]. They were so appreciative and it made us feel good."
The Knit Wits have donated 45 fitted masks twice to the Coppell Police Department. They were also tasked with creating a double-pleated cotton fabric to be worn on top of the UT Southwestern Medical Center's N95 masks. When the club donated to UT Southwestern a second time, they donated almost 320 masks with difficult-to-make copper nose pieces to provide the best fit and ensure safety for wearers.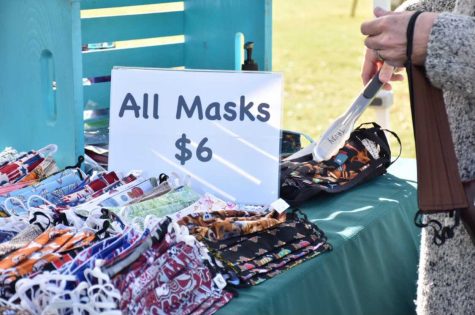 "I was able to connect with the [Coppell] Farmers Market, for [the Knit Wits] to be able to sell the masks out there, they've been selling masks since before the summer and have been very successful," Senior and Community Center manager Laci McKinney said."This group is all about being souls that give back, You can see the dedication and how they are connected to each other."
The Senior Center club began selling at the Coppell Farmers Market to pay for supplies and buy more fabric to make functional masks. While only about 25 of the club members worked on sewing masks, others took up ironing and cutting fabric to meet the high demand. At the Farmers Market, McCoy realized the public wanted masks made with specialty fabric, such as Dallas Cowboys and college logos. The more functional masks were still being donated to hospitals and first responders, but the more design-based masks were sold.
The Knit Wits, abiding by COVID-19 regulations, made sure to maintain and encourage social distancing around their booth and used kitchen tongs to flip masks for any prospective buyers.
Many of the members of the Knit Wits felt joining this initiative was filling a void for them, because although they were unable to go outside, members were still able to help their community. Now, club members work from their homes and have selected days where they have their work picked up and processed to be donated as low-risk as possible.
"I never thought that my sewing ability was going to help save lives somewhere down the line, but it's really a great skill to have," club member Trudy White said. "We've had people show up with bags of fabric and a sewing machine or two. We take them and we use them."
You can find the Knit Wits on Facebook at @CoppellKnitWits
Follow Anette (@AnetteVarghese) and @CHSCampusNews on Twitter.