Satish spreading joy through Random Acts of Kindness Club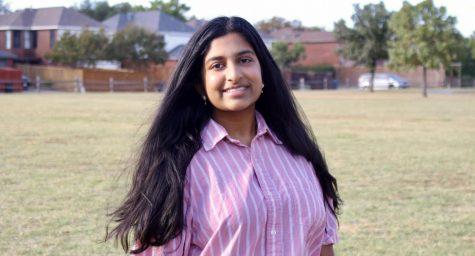 Last year, Coppell High School junior Amita Satish formed the Random Acts of Kindness Club to create positive change. As president of the club, she shares her experiences, goals and the legacy she hopes to leave behind.
Why did you start the club?
I started the Random Acts of Kindness Club to bring positivity in our community. It's so important, especially because the pandemic has negatively affected people in different ways. I want to make sure that everyone has something to look forward to that can make them instantly happy that whole day.
What projects are you most proud of?
We have done two main projects that I'm super proud of. We raised over 600 school supplies for Thomas J. Rusk Middle School in Dallas ISD. They are a title one school – low income; we wanted to make sure that they had access to what they need to have a good start to the school year. We got in touch with their special needs teachers to make sure that [their] classes [ran] smoothly. The second project was giving slips to all of the staff in Coppell ISD. We gave them thank you slips and were sponsored by Nothing Bundt Cakes. We [had] a pre-typed message and [wrote] their names [on it] so it was personalized and then we had [a] gift voucher.
What are your club goals?
I hope to start more projects and want to [help people] with [their] mental health. I want to [create] a safe space. That's hard to do, since not a lot of people are not comfortable sharing [their emotions]. Even if they don't want to share – if we can put a smile on their faces and change their thoughts to something [more positive] – that can have a huge impact.
What are your duties as president?
 As the leader of the club, I bring the ideas from all of the members together. I understand that a lot of people have busy schedules, so I am in charge of organizing everything and making sure that everyone comes together and does their part to help the project be successful. 
 What would you say to encourage students to join?
You'll internally be happy: [making] people in your community or your friend circle happy, connecting with more people and creating a more interconnected society. You'll learn more about  mental health, be more aware and support more people in your society and friend group; that ultimately is one of the most fulfilling things you can do as a high schooler.
Follow @CHSCampusNews on Twitter.